The system: iMIS Food Handbook
iMIS Food includes a quality handbook management system that can be tailored to existing systems. The handbook system contains all the general company information, procedures, and instructions necessary to produce food safely. The system is divided into a generic section and a company-specific section. The generic procedures and instructions apply to any food company wanting to comply with, for example, BRC and IFS. The specific section includes all company-specific procedures and instructions which stem from the HACCP study, among other things. This hazard study and risk analysis lead to additional registrations that can be used to demonstrate that food is produced safely. The generic section is centrally maintained by QAssurance. The specific section is maintained by the company itself.
Working with the iMIS Food Handbook provides the following benefits:
Efficiency
Generic procedures and instructions always comply with the standards
No time and costs are wasted on generic procedures and instructions
Automatic adjustment by a change in standard or law
Being able to fully focus on the company-specific situation
A page can be added easily
Version control system and logbook with the reason for the change
Any topic is quickly found through the search function
Automatic print layout for any paper copies
Automatic internal communication
Much more efficient approach than with a word processor
Halving the cost of maintaining the quality handbook
Assurance
Always be able to deliver to (potential) customers
Continuously meeting the latest quality standards
Continuously work in accordance with applicable legislation
Professional handbook system
Quality
Good base system with generic iMIS Food procedures
Knowledge bank for company-specific matters
Instructions with images, photos, and videos
Access for everyone via intranet
Impression 1: working with the iMIS Food Handbook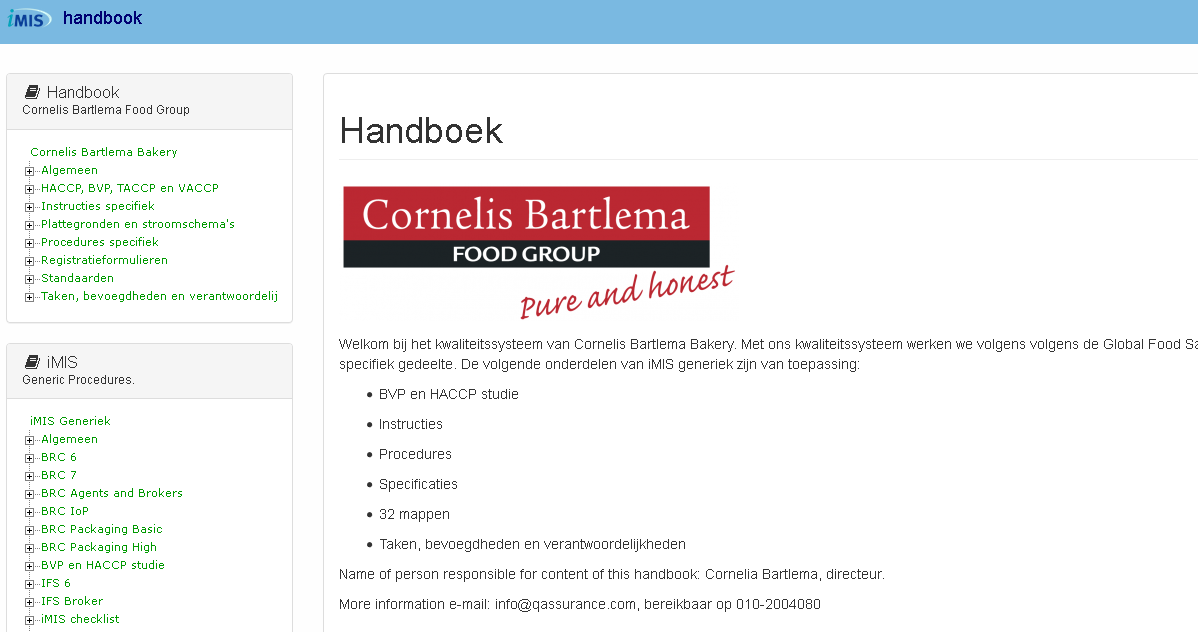 The quality system is available to everyone within the company via http://imis. The handbook is also legible on tablet and telephone in addition to on the PC.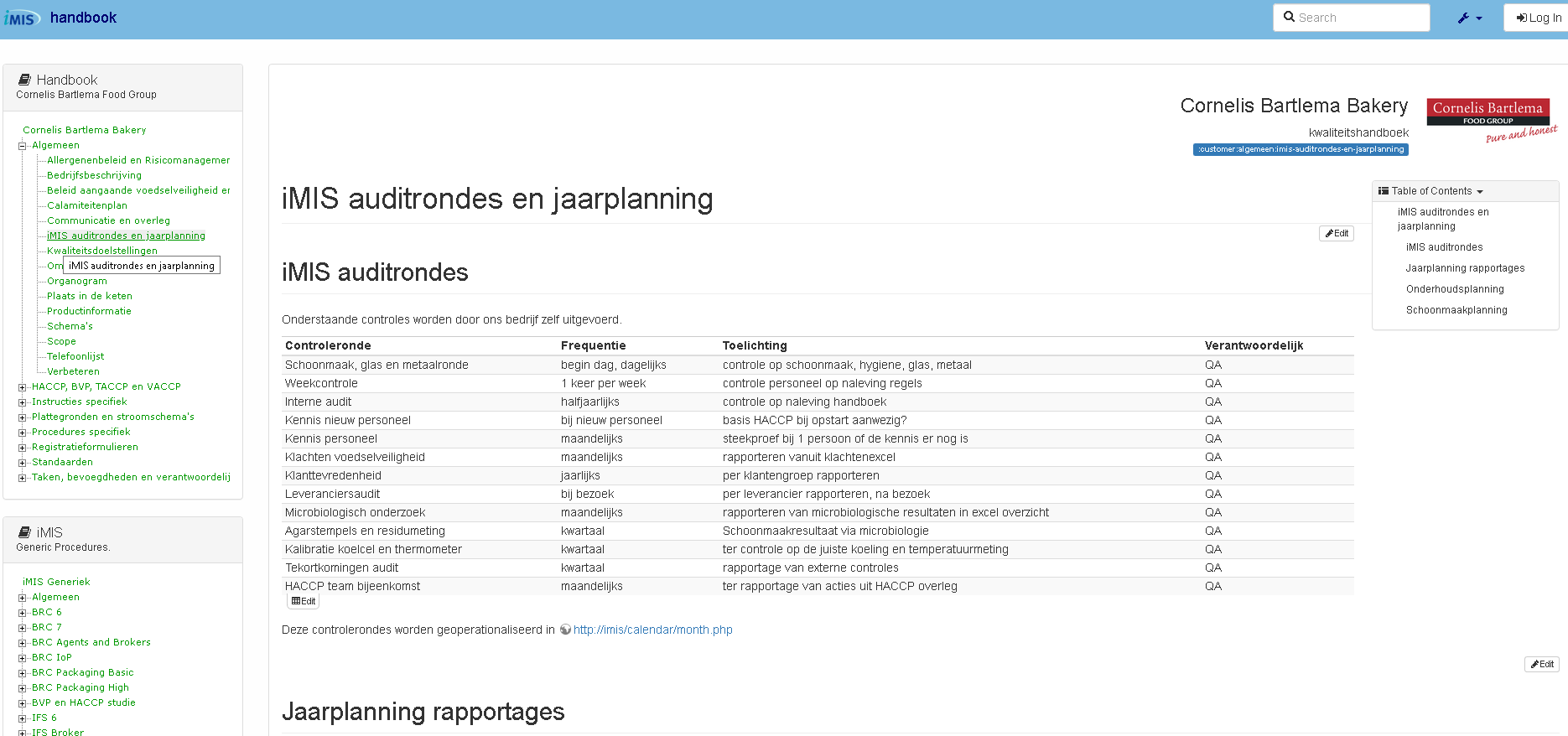 The company can adjust the company-specific section in the handbook themselves. Generic iMIS contains predefined procedures and instructions that can be used to renew the company's own procedures. The company can also choose to fully implement the iMIS generic procedures and instructions and possibly supplement them with company-specific explanations.

A page can be added, changed, or removed via the iMIS Food menu.
Do you want to see more from iMIS Food?
Then schedule a no-obligation online demo!
iMIS Food Handbook Application
Company
With iMIS Food, everyone can stay informed of the applicable rules and instructions within the company. As a result, everyone knows what needs to be done and there is less chance of mistakes. Because it is clearly known what is expected of everyone, it can be controlled. By making it measurable, the organization can be better managed based on facts. The version control system also makes it clear how the quality system exists in the organization.
Suppliers
The quality system clearly describes how to deal with suppliers. Quality assurance starts with purchasing. iMIS Food offers examples of purchase and delivery conditions, with which clear agreements are made on what should be delivered. These agreements can then be confirmed with a good entry check. Only receive products and services from approved suppliers with approved specifications. These specifications must be available from both raw material suppliers and service suppliers such as hired cleaning activities and pest control.
Customers
When producing specifically for customers, customer-specific instructions are often required. These instructions can easily be made known to everyone via iMIS Food. Controls can also be provided with supporting photo material and film. Retailers have internet portals in which specification data must be entered. These types of applications should be treated as a process. With iMIS Food it can be determined who can fill in what and when. This ensures unambiguous communication with the customer and prevents possible errors.
Legislation
Regarding legislation, the minimum requirements are a HACCP system, a recall procedure, and, if the products produced fall under EU regulation 2073, a microbiology procedure. The iMIS Food system contains a separate website, in which all Dutch and EU legislation is updated. The HACCP approach, based on the Codex Alimentarius, is also described. In addition, iMIS Food offers the legally necessary procedures and sample letters with which, for example, migration tests can be requested from the suppliers of the packaging material.
Standards
iMIS Food is based on the food safety standards of BRC, IFS, FSSC 22000, and Dutch HACCP. The necessary standard procedures and instructions have also been drawn up for these standards. If desired, other quality standards can be added. The standards are continuously monitored. Standard changes and audits by certification bodies can have an impact on these procedures and instructions. Where necessary, these are centrally renewed by QAssurance.
The implementation of the iMIS Food Handbook
Explanation of the handbook system and training
Activate generic iMIS Food information
Determining company-specific information in, among other things, procedures and instructions
Adding the company-specific information
Introducing the new handbook system to colleagues
Do you have any questions about the iMIS Food Handbook?
Feel free to contact us and we will be happy to assist you.
Impression 2: working with the iMIS Food Handbook

A page can be added, changed, or removed using the iMIS Food menu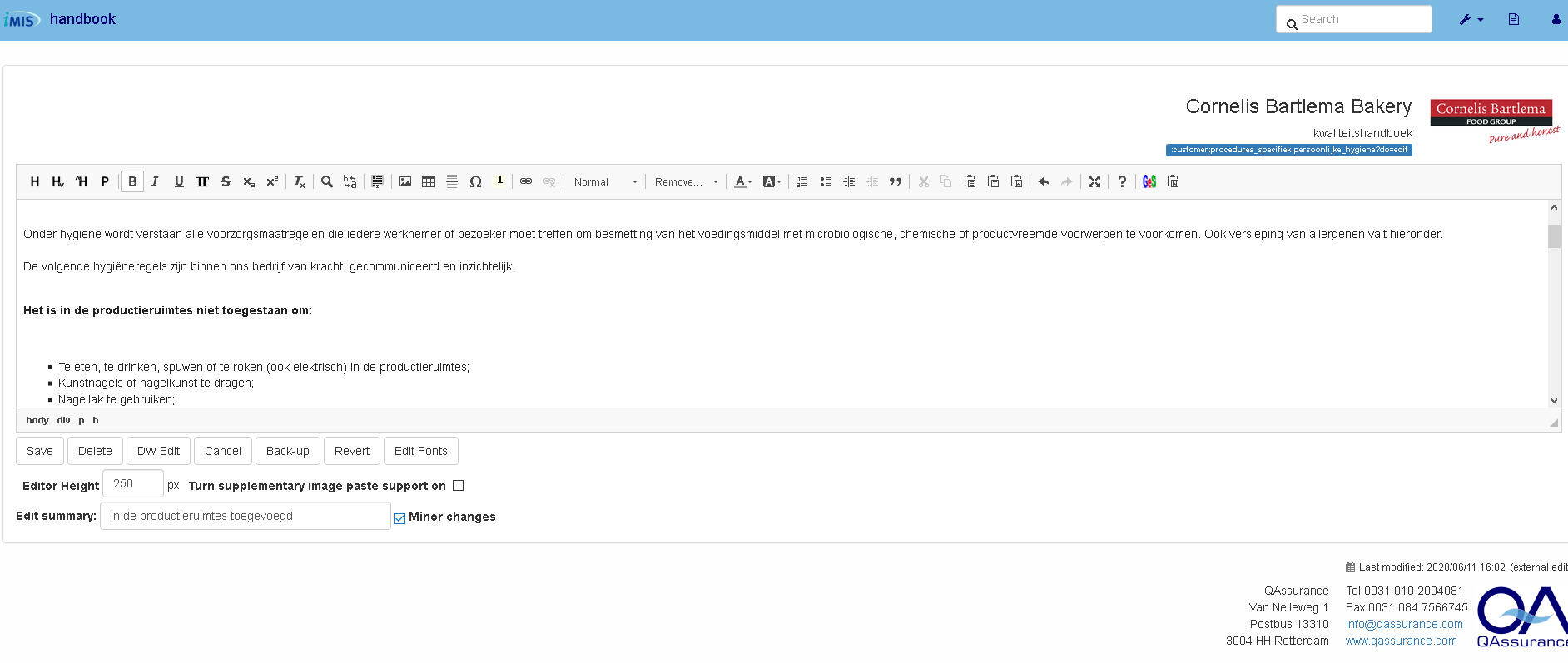 A user-friendly editor shows the menu choices to customize pages. Pictures, documents, internal and external web links can also be added. This makes it possible to make the handbook completely "clickable". It also keeps track of who changed what and when and the reason for the change can be recorded.

The recent adjustments of a page, but also of the entire handbook, can be seen via the iMIS Food menu.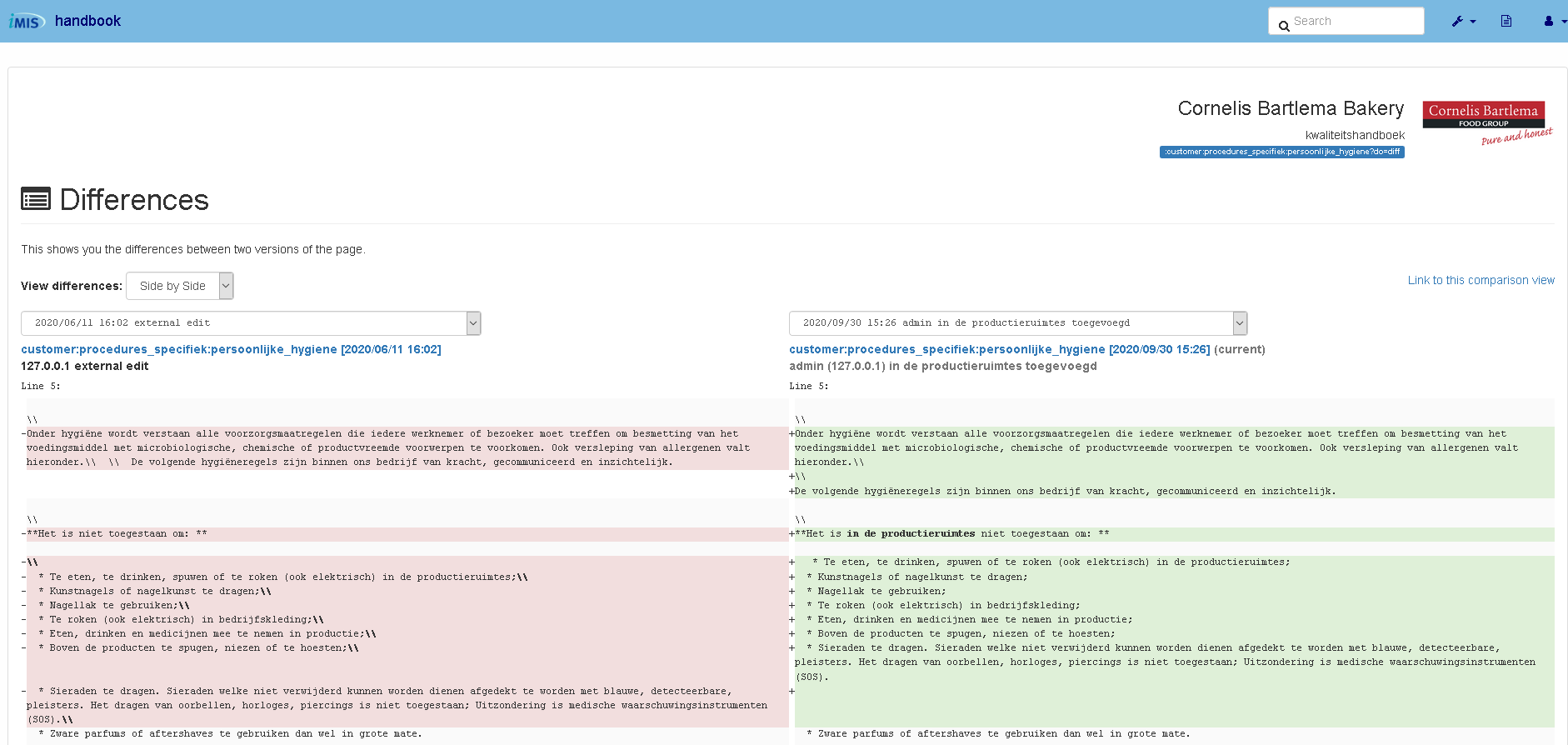 The menu shows an overview of the changed page. So that everyone can know what was changed when, by whom, and why.

iMIS Food already contains fully equipped cross tables to IFS, BRC, and FSSC 22000. For each standard requirement, reference is made to how this requirement is met. These cross tables can be adjusted by the user, if a company-specific interpretation of a standard requirement is desired.

iMIS Food automatically generates overviews of changed documents and can email them to the relevant people. iMIS Food also offers a complete overview of all documents, including the last date of modification. This is a useful overview for audits.
View the other components of iMIS Food here
About QAssurance
QAssurance is specialized in food safety. We enable a food producers to manage food safety themselves. iMIS Food has been developed to achieve this. iMIS Food offers a complete infrastructure for QA matters, enabling efficient compliance with changing legislation and standards. With the iMIS Food Helpdesk, professional support is available for substantive and software questions.
Food Safety news
In the overview below, you will find the most downloaded food safety documents in 2021 (so far).
On 17 June, we started the Food Safety Compliance training with 12 enthusiastic participants. We went back to the basics, the foundation to properly fulfill...