Benefits iMIS Food Handbook for Management
Generic procedures and instructions always meet standards
No time and costs lost to generic procedures and instructions
Automatic adjustment when standards or laws change
Fully focus on the company specific situation
A page can easily be added
Version control system and log with the reason for the change
The search function makes it easy to find any topic
Automatic print layout for any paper version
Automatic internal communication
An efficient approach compared to using a word processor
Halving the cost of maintaining the quality manual
Assurance
Always able to deliver to (potential) customers
Continuously, meet the most recent quality standards
Continuously, work according to the current legislation
Professional digiital handbook system
Quality
Good basic system with generic iMIS Food procedures
A knowledge database for company-specific issues
Instructions available in images, pictures and video's
Access to the QAssurance intranet
Impression 1:

Working with the iMIS Food Handbook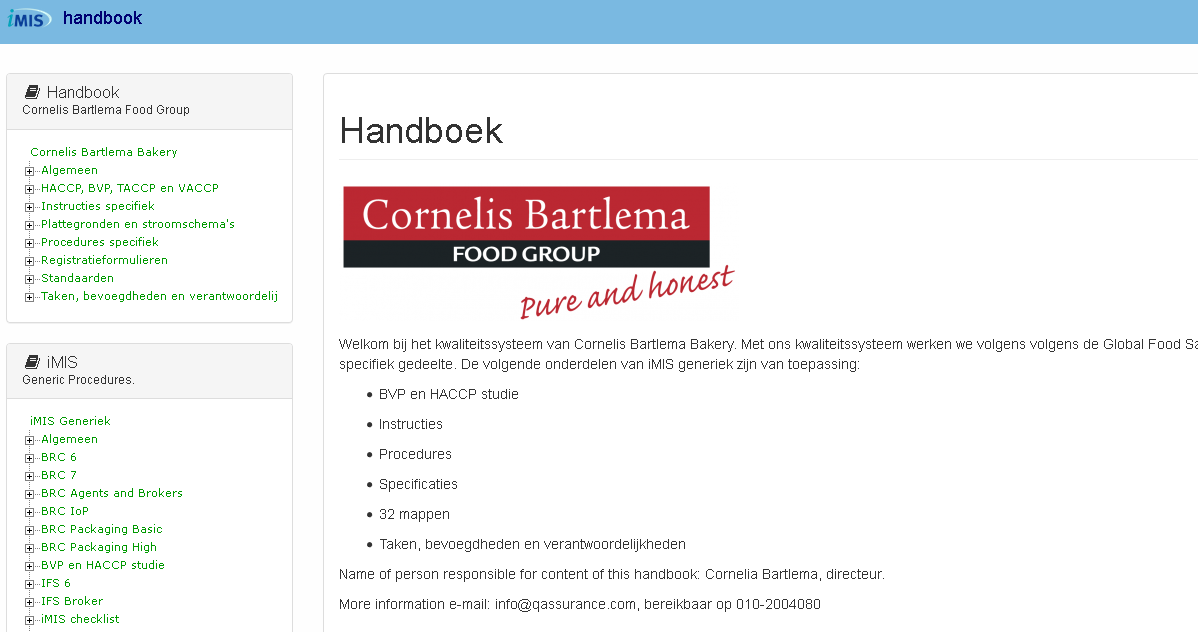 Via http://imis the quality system is available to everyone in the company. The handbook is also readable on tablet and phone.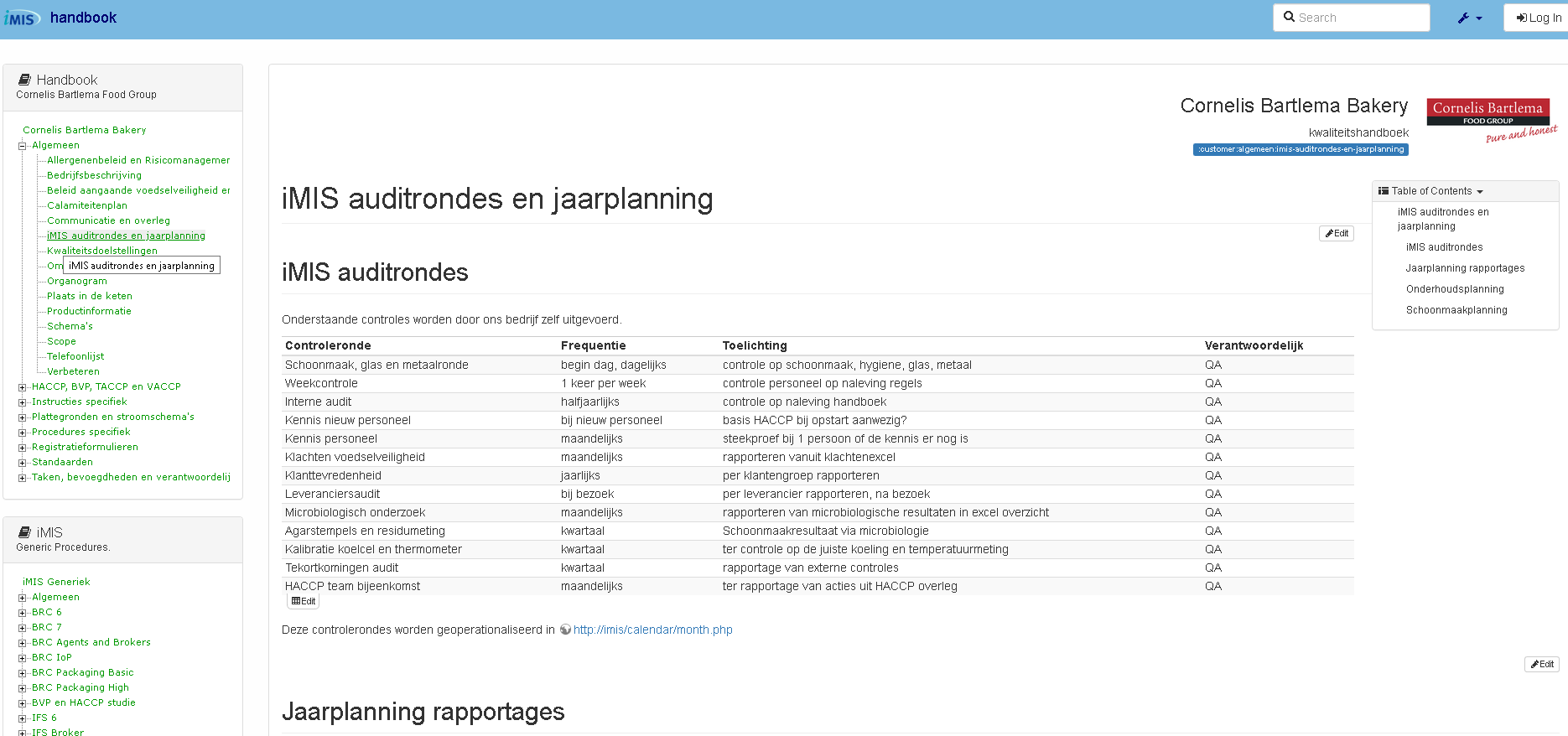 In the Food Handbook, the company can customize the company-specific section itself. iMIS generic contains predefined procedures and instructions that can be used to refresh own procedures. Also, the company can choose to fully implement the iMIS generic procedures and instructions and, if necessary, supplement them with company-specific explanations.

With the use of the iMIS Food menu, a page can be added, changed or deleted.
Want to learn more about MIS Food?
Applying the iMIS Food Handbook
iMIS Food Handbook for companies
With iMIS Food, everyone can be informed about the applicable rules and instructions within the company. This means that everyone knows what needs to be done and there is less chance of mistakes being made. Because it is clearly known what is expected of everyone, this can be managed. By making the organization measurable, it is possible to manage better on the basis of facts. The version control system also makes it clear how the quality system operates in the organization.
Suppliers
The quality system specifies how to deal with suppliers. Quality assurance starts with purchasing. iMIS Food offers examples of purchasing conditions and terms of delivery, which can be used to agree on exactly what needs to be delivered. Subsequently, these agreements can be safeguarded with good entry control. Only receive products and services from approved suppliers with approved specifications. These specifications should be available from both raw material suppliers and service providers such as hired cleaning activities and pest control.
Customers
When producing specifically for customers, customer-specific instructions are often needed. These instructions can easily be made known to everyone through iMIS Food. Checks can also be provided with supporting photo material and film. Retailers have internet portals in which specification data must be entered. These types of requests should be treated as a process. With iMIS Food it is possible to record who is allowed to fill in what and when. This ensures unambiguous communication with the customer and prevents possible errors.
Procedures & Legislation
The minimum requirements for legislation are: a HACCP system, a recall procedure and if the produced products fall under the EU Regulation 2073, a microbiology procedure. The iMIS Food system contains a separate website, in which all Dutch and EU legislation is maintained. The HACCP approach, based on the Codex Alimentarius, is also described. In addition, iMIS Food offers the legally required procedures and sample letters with which, for example, migration tests can be requested from the suppliers of the packaging materials.
Norms & Standards
iMIS Food is founded on the basis of food safety standards such as the BRC, IFS, FSSC 22000, and Dutch HACCP, as well as the standard processes and instructions that are required for each of these standards to be followed. Another set of quality requirements may be introduced if required. The standard criteria are regularly checked and adjusted as necessary. Changes in standards, as well as audits by certifying authorities, might have an influence on these policies and processes. QAssurance is responsible for centrally renewing them as required.
Implementing the

 iMiS Food Handbook
Food Handbook system explanation and training
Activating the generic iMIS Food information
Determine company-specific information including procedures and instructions
To add the company specific information
Introducing the new handbook system to colleagues
Do you have any questions about the iMIS Food Handbook?
Feel free to contact us and we will be delighted to assist you.
Impression 2:

Working with the iMIS Food Handbook
With the use of the iMIS Food menu, a page can be added, altered or deleted.

Simply add and change content
A user-friendly editor appears in the menu to customize and alter pages. Images, documents, internal and external weblinks can also be added. This allows the manual to be made completely "clickable". The system also keeps track of who has modified what and when and the reason for modification can be recorded.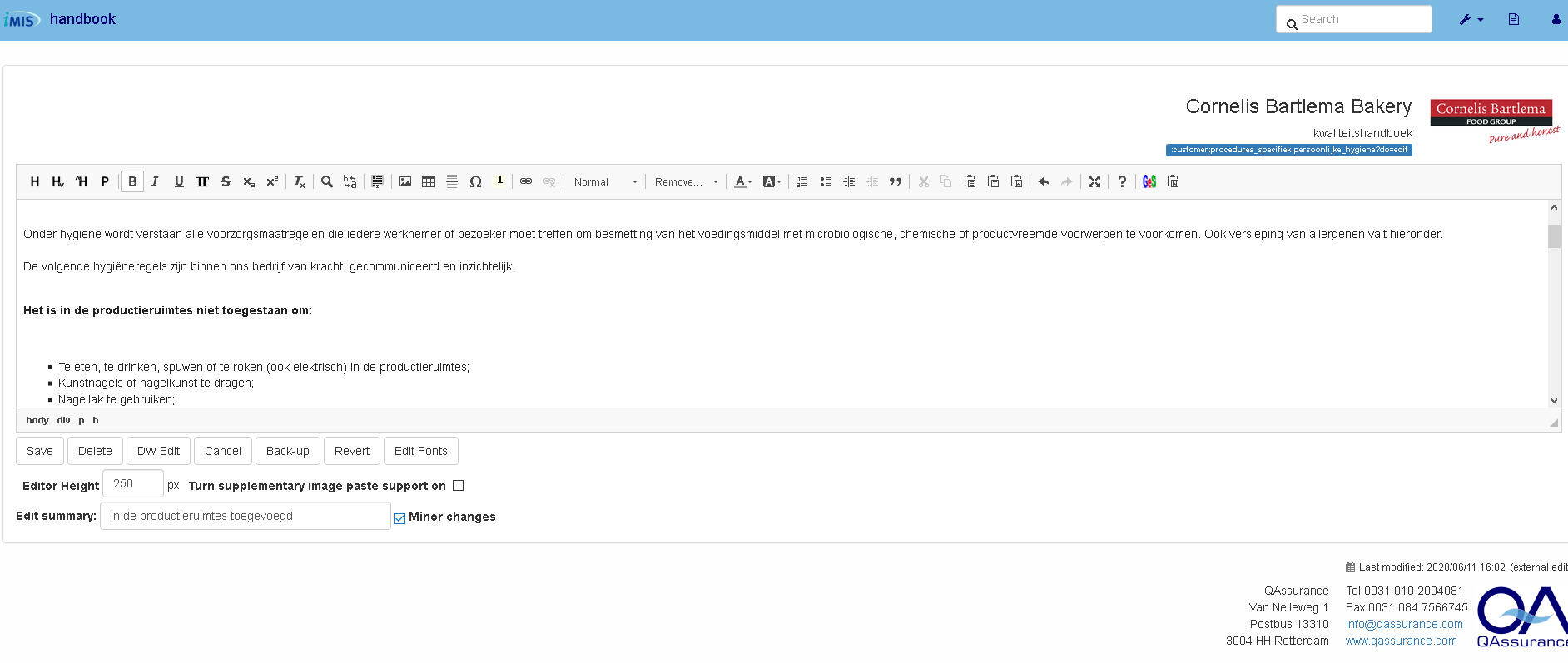 The iMIS Food menu can then be used to consult the recent modifications of a page, and of the entire handbook.

An overview of the changed items on the page appears in the menu. Therefore, everyone should know what was changed, when by whom and why.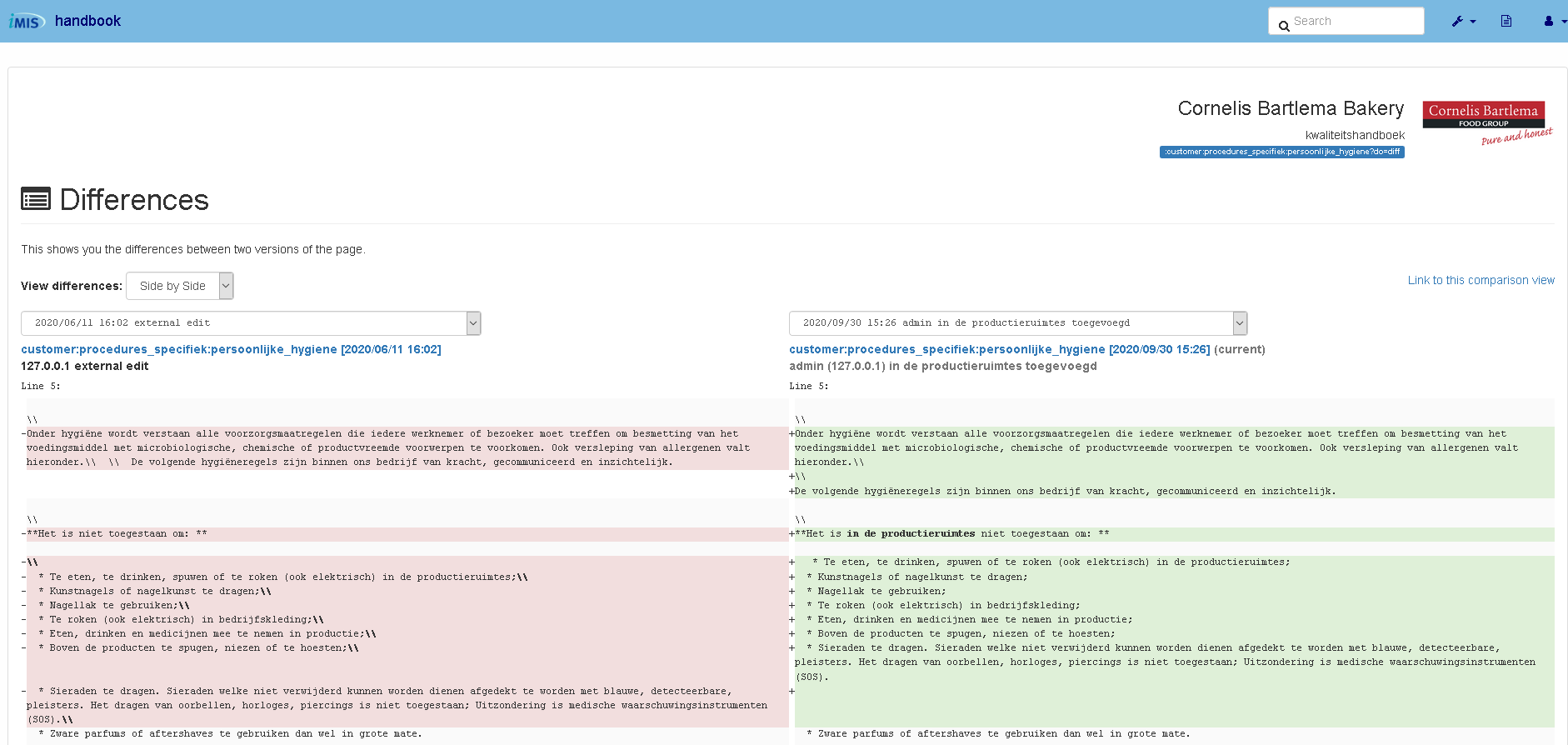 Formatted tables for standards requirements
iMIS Food already contains fully equipped cross tables according to IFS, BRC and FSSC22000. There is a reference per standard requirement on how this requirement is fulfilled. These cross-references can be adapted by the user, should a company-specific interpretation of a standard requirement be required.

Total overview of all documents
iMIS Food automatically generates overviews of changed documents and can email them to the relevant people. iMIS Food also provides a total overview of all documents, including last date of change. This is a useful overview during audits.

Components : iMIS Food management
The iMIS Food system consists of 8 components that ensure food safety. Below you will see 4 more components for food safety management that benefit many of our clients: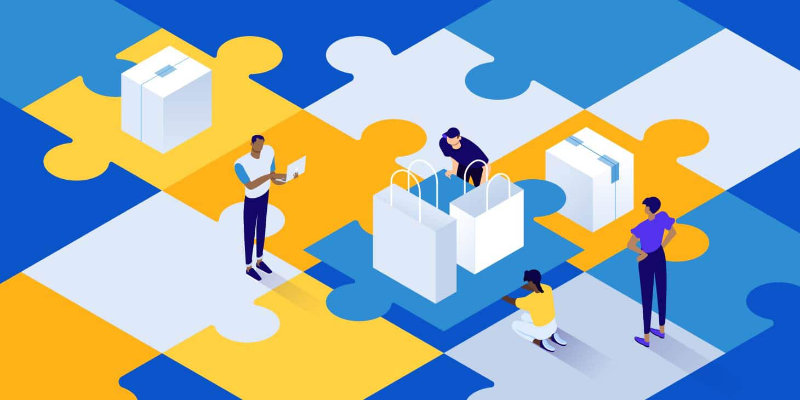 iMIS Food Tracking keeps track of which customer each end product is delivered to. Tracking from raw material to customer is done at the touch of a button.
Questions & support

iMIS Handbook

Do you have questions about the iMIS Handbook?
Contact QAssurance. We'll explain the benefits of the food safety handbook.