iMIS Food
Professional
iMIS Food including the specification management (2024).

Unique selling point toward your customer!

Maximum savings on current QA activities and software.

Maximum security and prepared for surprises.
iMIS Food
Compliance
MIS Food configuration focused on certification, good audit results.

Savings on compliance portals and QA software regarding handbook and inspection rounds.

Halve time on Food Safety reports.

Prepared for (unannounced) audits.
iMIS Food
HACCP
Working according to EU legislation and Food Safety Authority enforcement.

Guarantee of any EU recognition and export.

Up to date and weekly validated HACCP approach.

Prepared for (unannounced) visits.
Book the free iMIS Food Scan now
With the iMIS Food Scan you, as an entrepreneur, receive independent advice on whether the current size of your quality department is necessary, the required software is sufficient, and whether the advisors called in are actually necessary.
What does this scan look like? In the one-hour (online) zoom meeting, a Business Benefit analysis is jointly carried out for the use of iMIS Food. After this meeting, you will know the current status of the QA function within your company, what the business risks are, and what costs you can save.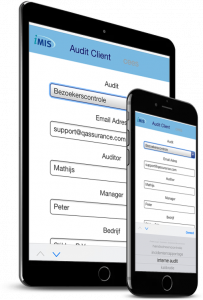 iMIS
Broker
iMIS Food Compliance for traders
iMIS
Logistics
iMIS Food Compliance for logistics service providers
iMIS
Packaging
iMIS Food Compliance for packaging companies
iMIS
Connect
iMIS Food, a specialized version for vendor management
iMIS
Food Service & Retail
iMIS Food Compliance to manage the entire Retail, Wholesale & Food Service chain.
iMIS
Component
Each iMIS Food part with server can be purchased separately for €500,- per month, including the iMIS Food Helpdesk.
iMIS
Costumize
For unique circumstance, we offer unique tailor-made solutions. Contact us for more information.
iMIS
Lab
Manage your laboratory with iMIS Lab and comply with ISO 17025.
iMIS
New Venture
The iMIS Food Online version allows new business ventures to manage food compliance.
The implementation of iMIS Food
The iMIS Food implementation process includes 5 to 10 days of support per location and has a lead time of about 3 months. The support takes place mainly online.
We only advise companies that use the iMIS Food system.
Are you curious about which steps we go through during the implantation? Then view the implementation plan.
Full overview per iMIS Food section
Professional - Compliance - HACCP - Connect - Software
Description

Professional

Compliance

HACCP

Connect

Software

iMIS Food Server

iMIS Food server

On-site server, for offline availability

iMIS Food Software

Handbook

Digital quality handbook

Audit

Digital inspections with mobile devices and PC

Intranet

Central documentation, action list, and reports

SpecCheck

Recipe management, specifications and ingredient declarations, allergens and nutritional values

Tracking

Tracking system from raw material to customer

Portal

Exchange of quality performance and reports

iMIS Food Content

iMIS Generic

Exchange of quality performance and reports

Food Safety hazards

Overview and monitoring of food hazards

EU legislation

Overview and monitoring of EU legislation

Standards

Overview and monitoring of the GFSI standards

E-learning

Food Safety training material

iMIS Food Helpdesk

iMIS Food Helpdesk

Direct help from Food Safety Experts

Direct help from IT Experts

Recall support

(24 hours/day)

Central staging and support for recalls