The system: iMIS Food Audit
iMIS Food includes a management system for control rounds and incident reporting that can be adapted to existing systems. With the audit reporting system, the inspection round can be carried out with a tablet or telephone. These rounds are automatically reported. The inspection rounds are prescribed in the generic part of the manual system. For example, from BRC and IFS it is a requirement to have an inventory list of glass and to test it. By including this glass list in the handheld, the check can also be recorded. This also applies to other inspection rounds, such as cleaning results, cleaning performance, hygienic work, etc. Depending on the size of the company, inspection rounds can be combined into, for example, a week round.
In addition to conducting inspection rounds, the system can also be used to report incidents. A broken lamp can be reported as an incident using the same glass list. All identified flaws or opportunities for improvement can be collected in this way.
All findings end up in a central overview for corrective action. In this overview, the cause of the problem can be recorded and ultimately a final check (verification) can determine whether the problem has been solved. With this way of working, the company can demonstrate that all matters have been checked. However, it is important to update the checklists when, for example, a new machine is installed. This requires adjustment of, among other things, the cleaning control.
Working with the iMIS Food Audit provides the following benefits:
Efficiency
Automatic processing of control rounds
Automatic overview of open actions
Nothing overlooked
Self-reporting can be predefined
Automatic creation of the desired reports
Search function for completed control rounds
Much more efficient approach than on paper
Daily reporting of open actions
Halving the costs of carrying out inspection rounds
Certainty
Carrying out the right checks at the right time
Continuously complying with the audits of the standards
Timely implementation of corrective actions
No surprises in customer audits or incidents
Professional approach to incident reporting
Professional audit system
Quality
Continuously known whether rounds are run on time
Time registration for control rounds
Insight into keeping the content up-to-date
The number of changes per year provides management information
Past audits are available via the intranet system
Realization of involvement in the organization
Impression 1: Working with iMIS Food Audit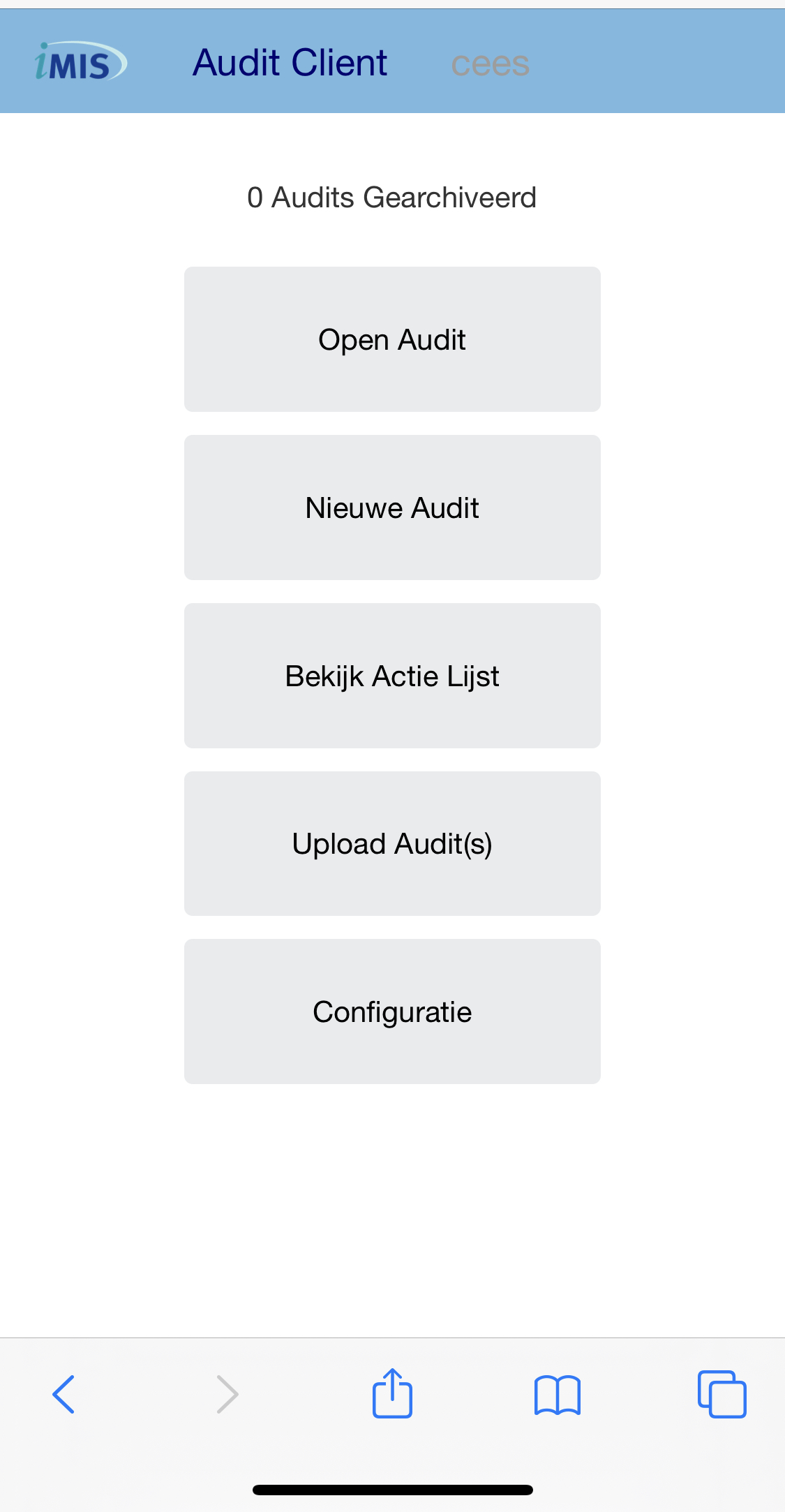 iMIS Food contains a complete Plan-Do-Check-Act system for checks. Any deviations are reported on the basis of predefined inspection rounds so that they can be further handled via a central action list.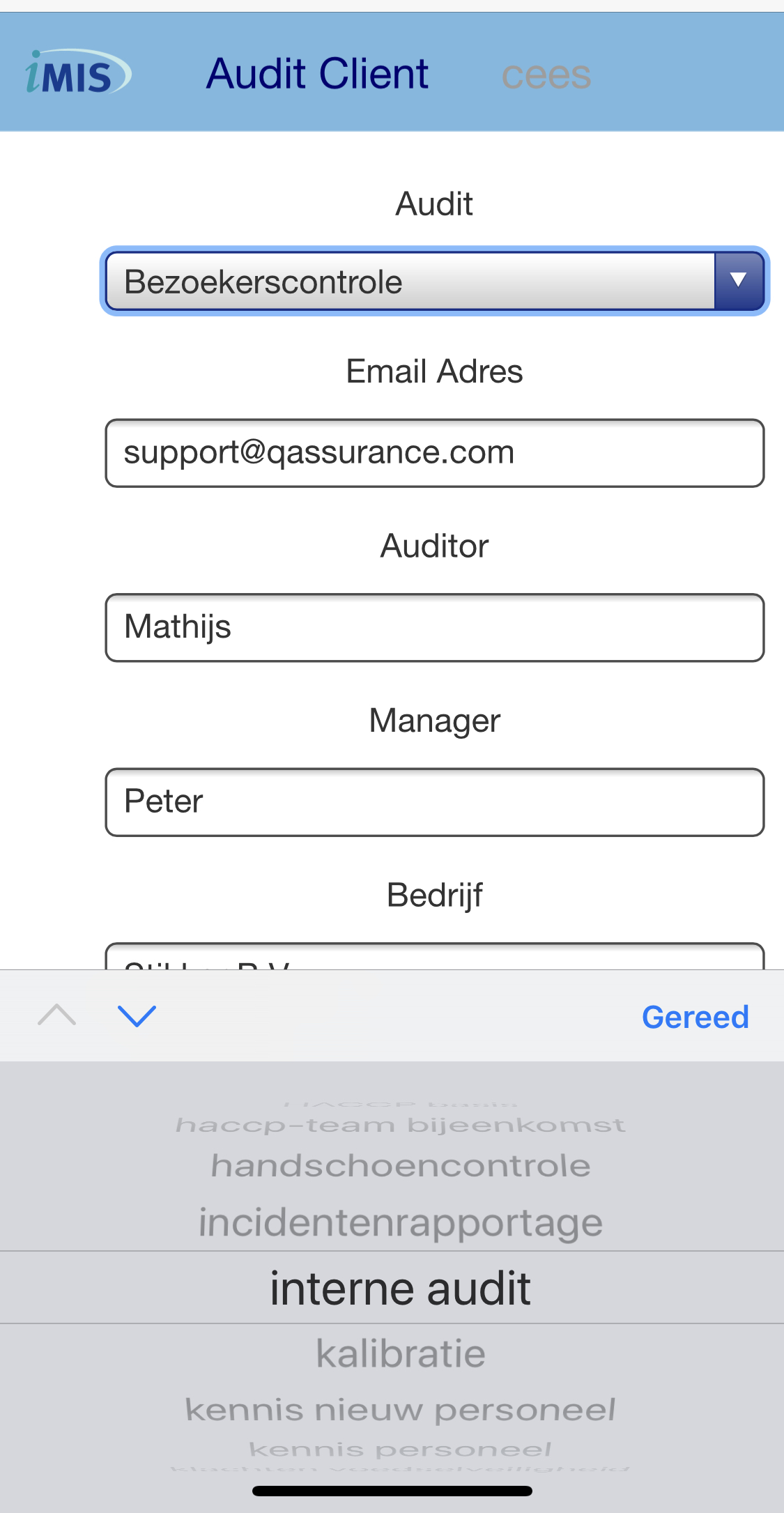 Hygiene checks, glass checks, cleaning checks (see handbook 2) can be performed and reported via telephone/tablet/pc.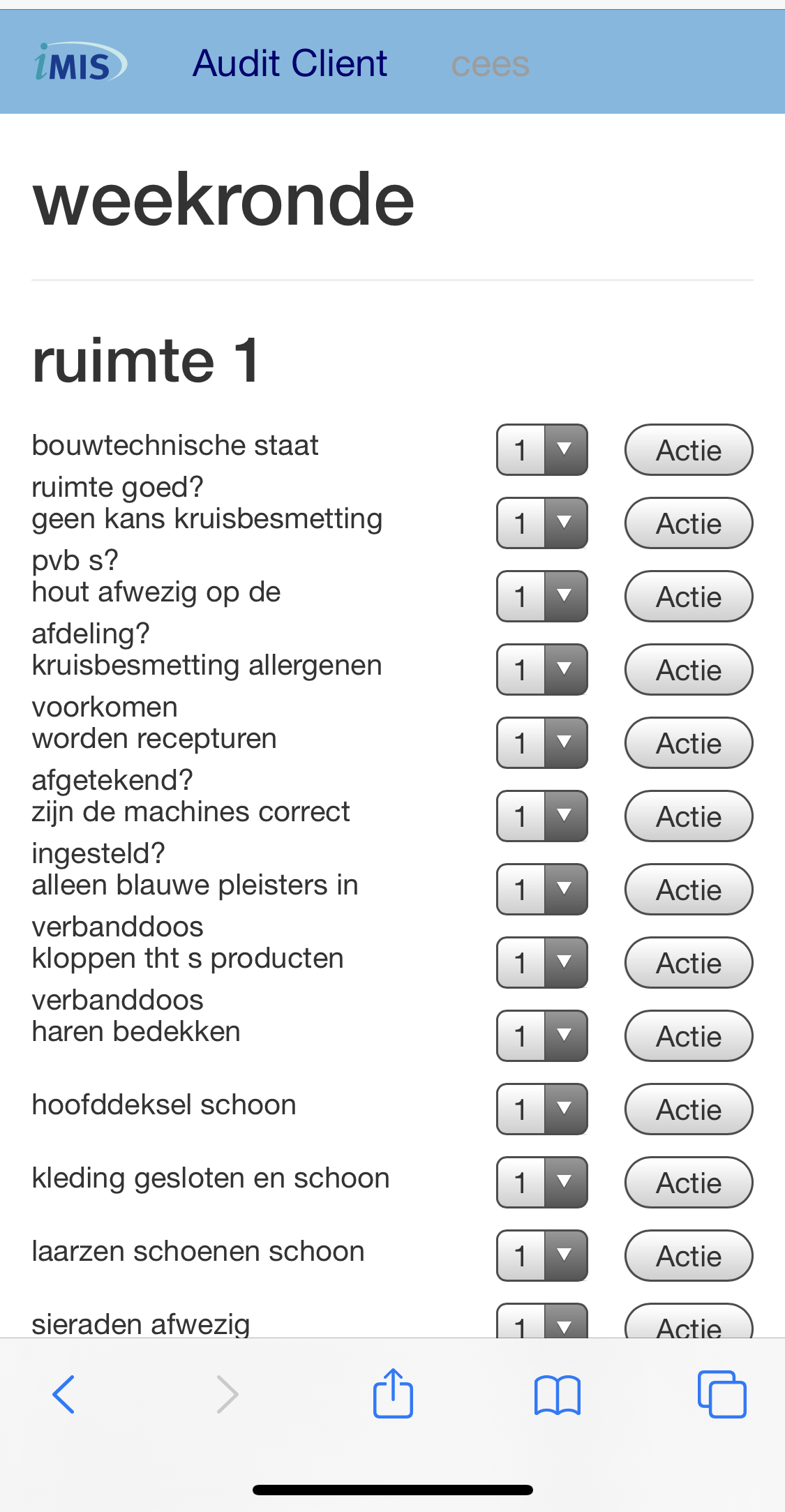 It can be determined per checklist whether the checked items are already OK by default, or whether the final value must be entered for each item. Furthermore, a possible non-conformity can be reported via the <action> button.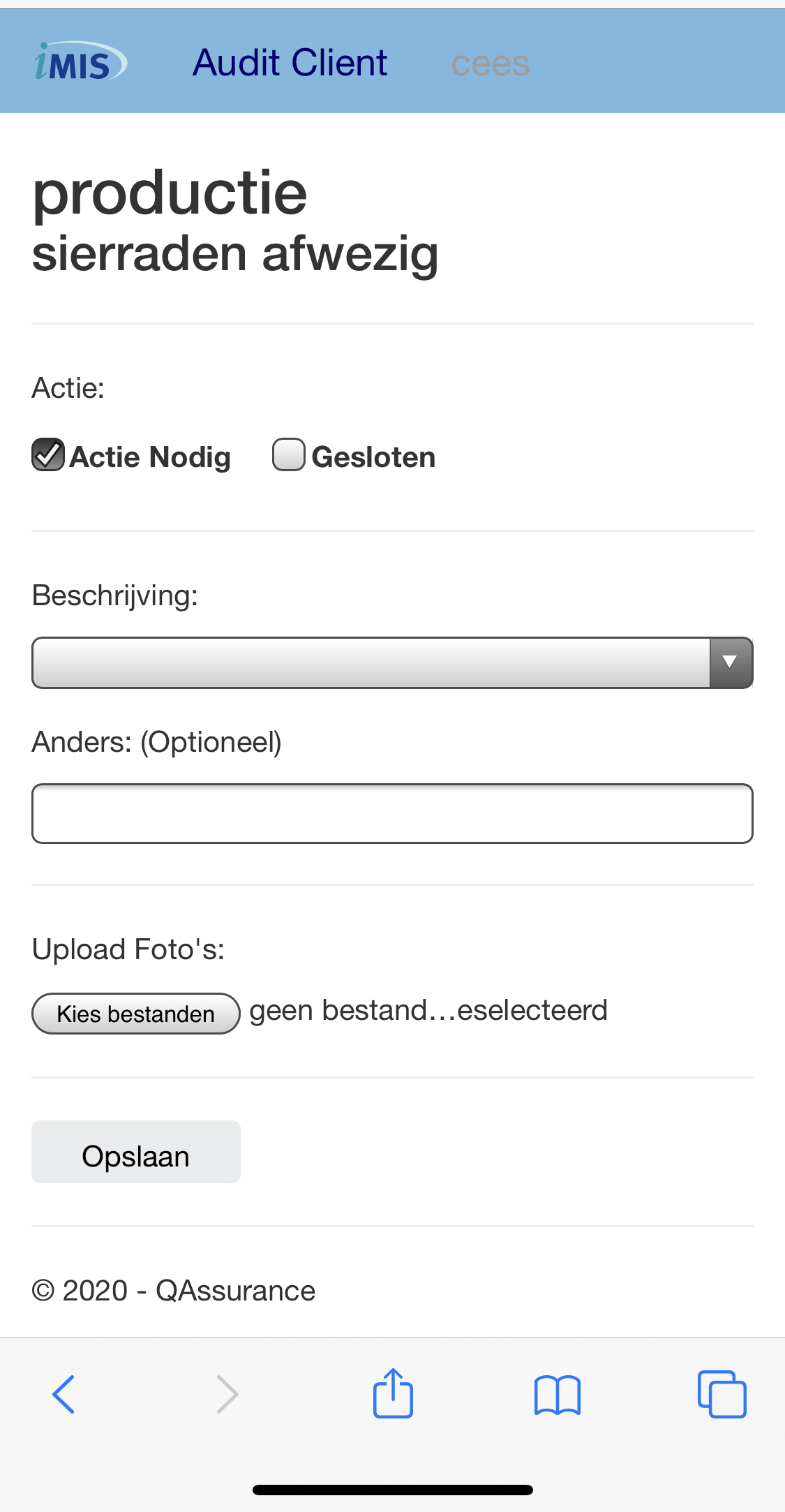 This action can then indicate whether the problem has been corrected and can be selected for defined comments to facilitate any final analysis. You can also provide an explanation yourself and send any documents and photos to clarify the problem that has been identified.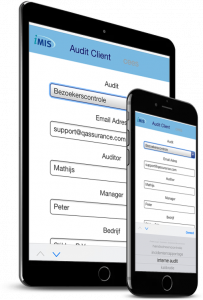 Do you want to see more of iMIS Food?
Then schedule a no-obligation online demo!
Application of iMIS Food Audit
Company
With iMIS Food, it is known throughout the company which inspection round should be performed and when. The planning of the inspection rounds is available via the intranet. A clear planning calendar states which round should be performed and when. The actually completed rounds are also shown in this calendar. The completed checklists can be consulted from the calendar.
The inspection rounds are closely linked to the quality system. This describes how the inspection round should be carried out and what to do in the event of a deviation. All deviations automatically appear in an overview. It can be indicated for each deviation who will solve it and when. With this, the company continuously knows the status of the open actions.
Legislation
The law requires a food company to be neat and clean. The government cannot require a company to carry out cleaning inspections, but in the case of a government inspection, it is useful to be able to demonstrate that the company has been checked every day for cleaning. The same is the case with glass breakage. If up to the previous check a lamp was still intact, in the worst-case production should only be blocked from that moment on. In the event of a recall, it is useful if a lot of history has been recorded with the audit system so that it can be quickly determined how it is handled.
Customers
Customers also carry out audits. They check whether the audit system is running according to plan. With iMIS Food, the company is never faced with surprises. The customer will also be impressed by this manner of working. Some customers may require specific controls. By performing these checks with iMIS Food, these customers can get automatic reports for the inspections of their choice.
Standards
The current quality standards demand a precisely set up control system at the company. Think of cleaning checks, glass checks, incident reporting. The standards also require a good system for communicating actions and handling corrective actions. With iMIS Food, all these requirements are handled in an efficient manner.
Suppliers
The audit system can also be set up with questions for a supplier audit. As a result, suppliers can be unambiguously checked, and the handling is also automated with audit reporting. Entry checks can also be performed with the audit software if necessary.
The implementation of the iMIS Food Audit
Explanation of handbook system and training
Activate generic iMIS Food information
Determining company-specific information in, among other things, procedures and instructions
Adding the company-specific information
Introducing the new handbook system to colleagues
Do you have any questions about the iMIS Food Audit?
Feel free to contact us and we will be happy to assist you.
Impression 2: Working with iMIS Food Audit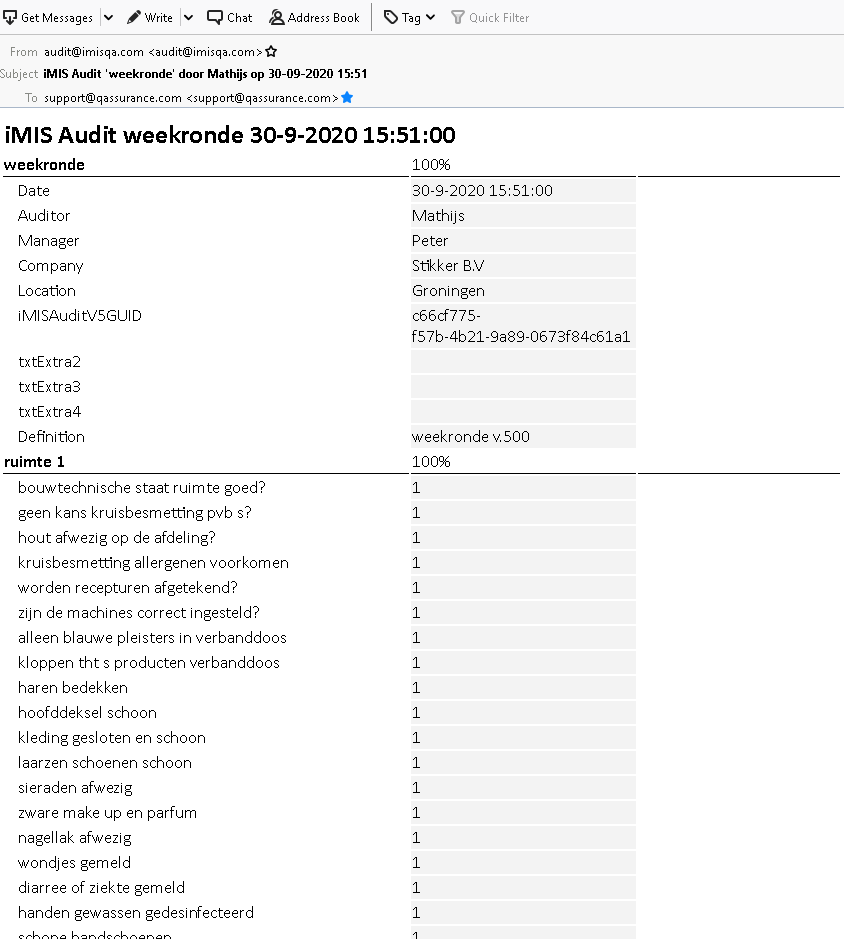 The performed check is sent by e-mail so that everyone is quickly informed of the result.

All checks performed are also reported on the intranet and searchable. In addition to this overview, there is also a planning calendar in which the planned and performed checks are reported.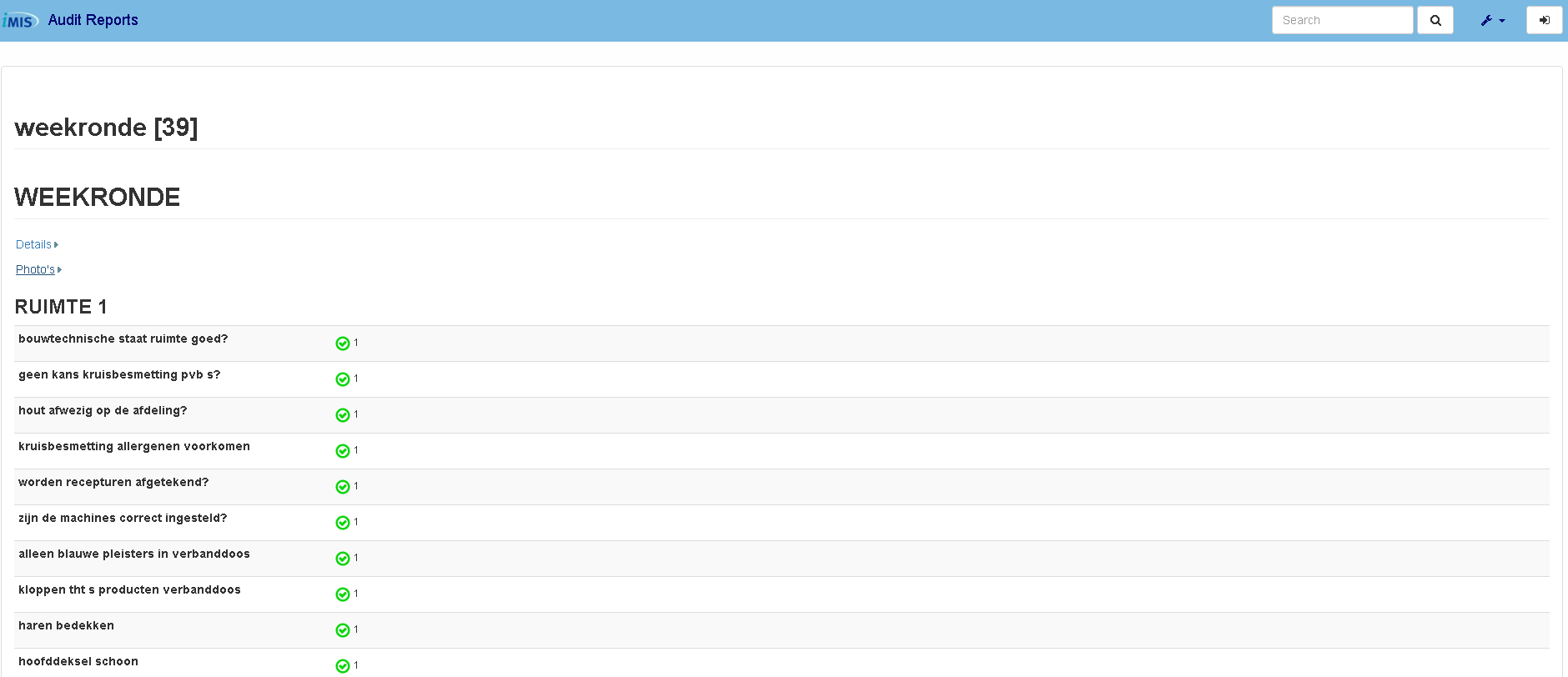 All checks performed can be accessed via the intranet.

iMIS Food offers a central cockpit for all actions within the company.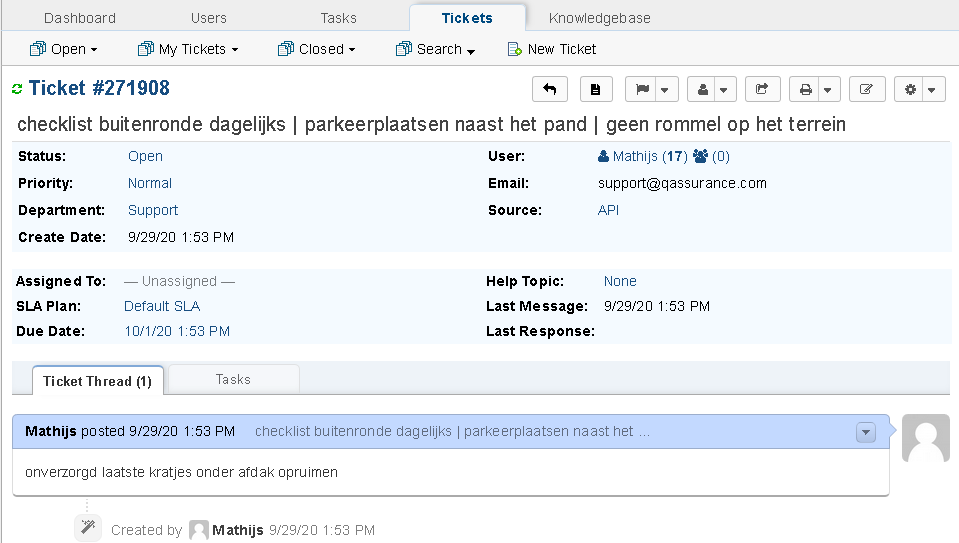 The actions can be further processed and assigned to the right people via the central ticket system.
View the other components of iMIS Food here
About QAssurance
QAssurance is specialized in food safety. We enable food producers to manage food safety themselves. iMIS Food has been developed to achieve this. iMIS Food offers a complete infrastructure for QA matters, enabling efficient compliance with changing legislation and standards. With the iMIS Food Helpdesk, professional support is available for substantive and software questions.
Food Safety news
On 17 June, we started the Food Safety Compliance training with 12 enthusiastic participants. We went back to the basics, the foundation to properly fulfill...
With our HACCP team training you can hold a good session with your team. The HACCP team will understand the role to be executed and...