Introduction
Nowadays, companies need transparency throughout their supply chains. The World Economic Forum's report on digital traceability provides a framework for comprehending how traceability helps facilitate the transition to more sustainable practices and produces better results for the firm and increased competitiveness. Additionally, it describes the four phases necessary for a successful traceability effort: linking sustainability and corporate goals to traceability, establishing an ecosystem for collaboration throughout the value chain and implementing crucial enablers like data utilizing both technologies.
Traceability implies inter cooperation across the whole value chain. It requires collaboration between businesses that may not have previously done business together. Therefore, partners must decide how to gather, manage, safeguard, and distribute pertinent information within the ecosystem. Another important aspect is selecting the underlying technology to share and host the data. And lastly, the solution must also be scalable across partnerships and application domains, link to current systems, and work with other traceability systems internally and externally.
Traceability – a means of increasing sustainability and competitiveness
According to the report, businesses have used highly efficient linear supply chains for over a century. However, this strategy jeopardizes the company's ability to compete. Nowadays, the stakeholders involved demand more sustainable and transparent products and processes. Furthermore, businesses must adapt to a more unpredictable business environment, which demands a more resilient value chain – a transparent and circular value chain that reuses recycles or decreases the waste, hence producing less waste and lowering the costs. This requires complex public-private partnerships, modern technological investment, and a new method of managing operations.
How does it work
Traceability enables businesses to identify strategic value chain possibilities, innovate at a faster rate, mitigate the impact of internal and external disruptions, and certify sustainable processes and products. Moreover, the products are followed throughout the supply chain, and the correct information can be retrieved regarding supplier sourcing practices or processes. Companies are under increasing pressure to make their value chains more sustainable and transparent. Furthermore, customers demand to know what they are purchasing and how it was manufactured. Therefore, collaboration is required for successful traceability projects.
Nevertheless, governments around the world are raising the standard for value chain transparency as consumers, investors, and other stakeholders demand more focus on social responsibility. Therefore, many governments require businesses to have a tracing system in place for tracking products and inputs. In addition, quality and safety regulators are broadening their focus to encompass environmental and social responsibilities as well. For instance, the new European Union released the European Due Diligence Act and required companies, regardless of the industry, to perform human rights due diligence for their supply chain.
Companies cannot manage it by themselves. Pertinent data is required for robust traceability. Data sharing and collaboration give traceability solutions their worth across-the-board criteria for companies in the value chain. Partnering, thus, improves the competitive advantage of specific businesses and the ecosystem. Companies must ensure their entire value chains are sustainable and resilient in order to stay competitive. This whole process is very complex. The broader the supply chain, the more suppliers are involved.
Nevertheless, companies must satisfy growing customer demands for personalization and speed as well as strict new laws and up-to-date certifications and standards. The report (see graph 1) demonstrates how business leaders use traceability to pursue various value chain-related goals. The figure shows that the primary purpose is regulatory compliance, followed by reliability and customer engagement.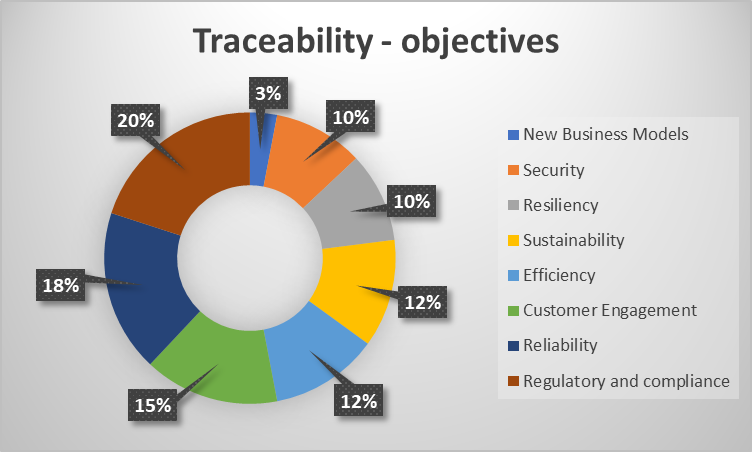 Traceability enablers
The paper highlights that by strengthening the five critical enablers seen in figure 1, leadership teams may contribute to the success of their traceability strategy. These consist of a partner ecosystem, integrated data strategy, solid technology architecture, internal operating model customized for cross-functional initiatives, and agreement on standards and certifications.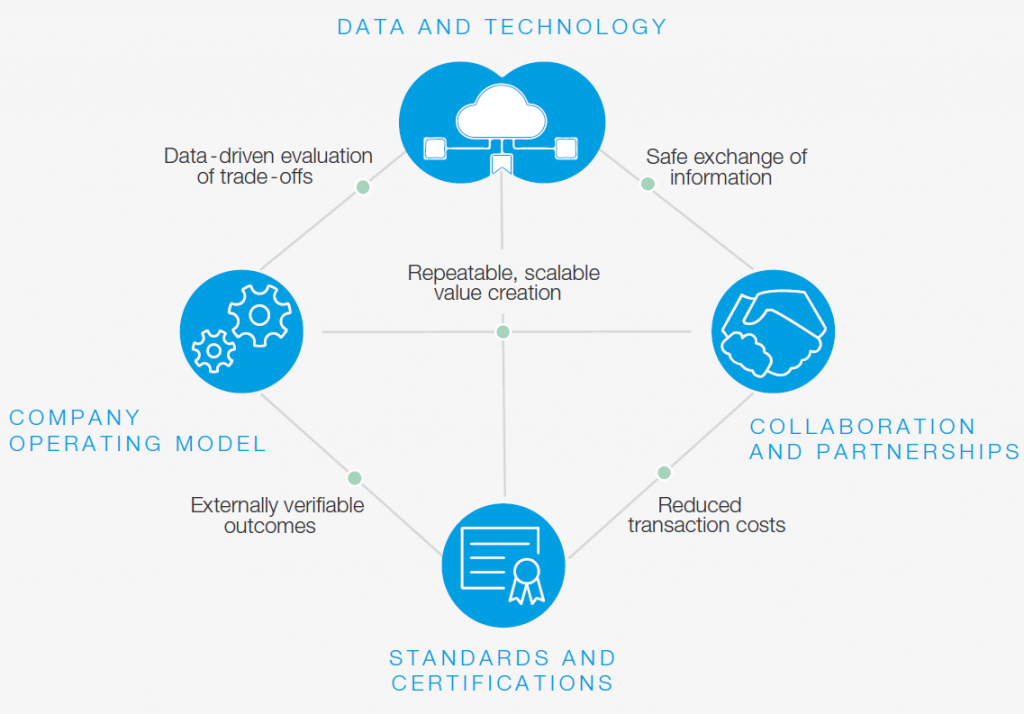 Traceability in agrifood chains – iMIS Food
iMIS Food includes a tracking management system that can be aligned with existing systems. According to various quality standards and European law, traceability requirements must be met from the raw material to the finished product. The raw material, as well as any additives and packaging materials that come into touch with the product, are all subject to this tracing. All raw materials, consumables, and packaging must be compared to the company's purchasing criteria and supplier evaluations. This stops the business from beginning the production process with the incorrect goods. Throughout the manufacturing process, iMIS Food records which raw ingredients, additives, and packaging go into which finished goods; whatever consumer has received and which finished good is tracked by iMIS Food. This enables quick and easy tracking from source material to the client.
Barcodes and scanning actions of all tracing operations are used to compile history, which allows for the incorporation of rework, blockages, packaging, labels, spices, lubricants, chemicals, and other items into the tracing system. The specification management module's allergen data can be used to create an efficient allergen management system. The tracking system can hold more records thanks to integrated product controls.
Working with the iMIS Food Tracking provides the following benefits:
Certainty
100% traceability as desired by customers
A working tracking system required by legislation
Trace from raw materials to customer
Traceability according to quality standards
Tracking data immediately available in the event of a recall
Quickly answer customer questions about product origin
Professional tracking system
Quality
Guarantee of goods reception
Extra checks at the production steps
Minimum shelf life upon receipt and after production
All products are labelled at all stages
Known which end product has gone to which customer
Receipt of approved raw materials only
Less chance of errors
Efficiency
Direct customs clearance of raw materials based on EAN128
Linking and reusing data from systems already in use
Working via the on/off principle, possible
Ability to scan at recipe level
Registration per batch of which raw materials have been used
Automatic reporting of overviews
Notification when best before date has been reached
Efficient implementation compared to extensive ERP systems
Much more efficient approach than paper registration
Half the tracking costs
Sources
World Economic Forum, (2021), Digital traceability: A framework for more sustainable and resilient value chains. https://www.weforum.org/whitepapers/digital-traceability-a-framework-for-more-sustainable-and-resilient-value-chains/
---
Related articles to Digital traceability for sustainable value chains
Many customers and visitors to this page 'Digital traceability for sustainable value chains' also viewed the articles and manuals listed below: