Introduction to the new MSME economy
The new MSME economy Post-Pandemic Drivers for Growth report was written by the APEC Business Advisory Council and released in October 2022. Hereby a summary of it.
The objective outcome of this report is to elicit lively debate, create urgency, and inspire action to boost the micro, small and medium enterprises (MSME) competitiveness and resilience in the new MSME economy. 
The pandemic disruption caused MSMEs to adapt to a new reality, which is now referred to as the new MSME economy. The actual impact was on MSMEs, which were forced to close to the extent of 56% (APEC, 2022). The women-owned MSMEs and other marginalized groups were particularly hit. Those MSMEs that did survive were burdened with enormous debt, and government assistance programs kept them afloat.
Nevertheless, it also generated the possibility of a brighter MSME future – a new MSME economy with new development opportunities. MSMEs are now capable of competing in new ways as a result of being driven to digitalize. Many of the traditional limitations that MSMEs have encountered have been minimized or removed as a result of digitalization. It has also allowed them to expand into new markets, form global value chains (GVCs), and create cross-border opportunities. Furthermore, it has enabled MSMEs to access new funding options and participate in growing two-sided MSMEs ecosystems. (APEC, 2022)
The new MEMS economy
The change
Border closures and an increase in geopolitical tensions resulted in a sharp decline in supply chain activity and a tripling of related expenditures. MSMEs that made it through had to take loans or rely on emergency finance provided by economies (APEC, 2022). Nevertheless, some MSMEs were able to quickly adapt and change in the face of these difficulties. Figure 1 shows the key elements of this new economy.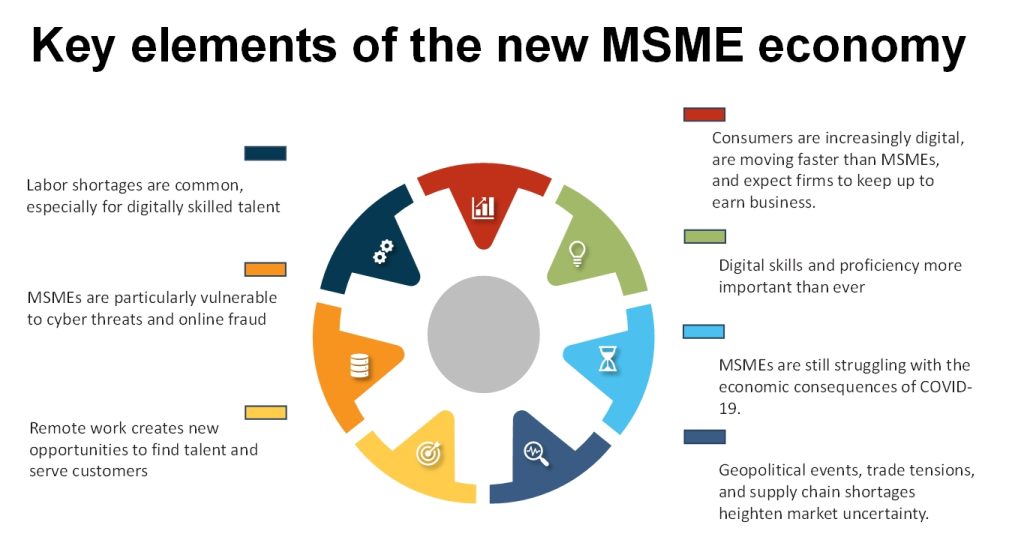 Changes to the MSME agenda:
Developing MSME support programs that are more effective.
Digitally provided services have the potential to be a driver, hence they ought to be at the top of the APEC MSME agenda.
Enablers:
Accelerating the digital transformation of MSME and the growth of digital ecosystems.
Facilitating and supporting private-public digital ecosystems.
Economic inclusion can only be advanced meaningfully with whole dedication, perseverance, and customized strategies.
Support ideas outside of the conventional banking system for MSME finance.
Recommendations
The report concludes with recommendations for both policymakers and businesses.
Policymakers:
''1. Collaborate with MSME associations and the business sector on new designs and delivery approaches for MSME support programs. ''

(APEC, 2022)
2. Prioritize digitally delivered services on the APEC MSME agenda. Collaboration across APEC economies to eliminate barriers and resolve challenges that MSMEs face in digitally delivered services will open new opportunities, which will benefit all MSMEs. ''

(APEC, 2022)
3. Actively support the financial sector, including new innovative fintech firms, in developing data-derived non-collateral financing alternatives for MSMEs. Lead the conversation and be quick to provide supportive regulations to guide industry players.''

(APEC, 2022)
Business leaders:
''1. Collaborate with policymakers and MSME associations in tackling the demand side of MSME support programs. Share "bleeding edge" innovations in corporate training with policymakers for application to MSME training and skills development. ''

(APEC, 2022)
2. Actively engage with policymakers, Telcos, IT providers, large firms, financial institutions, and MSME associations in creating frameworks for the design, investment, and support of industry-specific digital ecosystems.''

(APEC, 2022)
iMIS Food – key to digitalization within the food industry
iMIS Food provides a real-time Food Safety system that helps food companies comply with all regulations, procedures, and GFSI food safety standards such as IFS, BRC and FSSC 22000. The food industry is still an old-fashioned industry. Many businesses around the world still use physical paper for their procedures, documents, and food safety handbook. Nevertheless, with the help of the system, food companies can easily embrace digitalization and move away from pen-and-paper practices. Furthermore, transparency and integrity go hand in hand. Therefore, it is essential to know what your company is producing, as well as how products are produced. Hence, food companies, have an obligation to ensure all steps of the food supply chain are traceable.
Digitalization
Besides the tracking system, iMIS Food offers multiple digital solutions to aid food companies in complying with the latest legislation and standards, such as a digital handbook with all procedures and the HACCP study, an audit round system where hygiene, cleaning, product, or process checks can be performed and reported via smartphone, the intranet and portal, which offer access to the entire system, a calendar, as well as the documentation system. 
iMIS digital solutions:
Read about iMIS Food here and look at our company presentation and leaflet.
Transparency and Integrity
Furthermore, iMIS Food contains a tracking management system that may be connected with other systems. Several quality standards and legislation demand traceability from the source material to the end product delivered to the customer. Throughout the production process, iMIS Food keeps track of which raw components, additives, and packaging end up in which final product. Likewise, iMIS Food keeps track of which clients have which final products. This allows for one-click traceability from the source material to the customer.
Sources
APEC Business Advisory Council and University of Southern California Marshall School of Business (2022), THE NEW MSME ECONOMY, Post-Pandemic Drivers for Growth
---
Related articles to The new MSME economy Post-Pandemic Drivers for Growth
Many customers and visitors to this page 'The new MSME economy Post-Pandemic Drivers for Growth' also viewed the articles and manuals listed below: