Introduction Global Food Chain Traceability
The article written by John G. Keogh, M.B.A., M.Sc., Louise Manning Ph.D., and Steve Simske Ph.D. talks about the global food chain traceability, reflections on the past, and present, as well as insights into the future. Here you will find a summary and you can read the full article here.
Traceability refers to how materials, packaging, end products, processing tools, and other items circulate along the supply chain. Traceability systems support food safety, food quality, sustainability claims, and transactional processes in preventing food fraud and food defense incidents. It is frequently divided into the two parts of track and trace. Tracing is the process of tracking a product from its retail shelf back to its producer, ingredient supplier, and supplier's provider. Tracking entails following raw materials from producers, such as spices, to the spice blend, and ultimately to all the finished goods and their final destinations where the spice blend was employed as an ingredient. 
Further, traceability's granularity, or the level of precision at which it can be determined, is also crucial. It takes into account the time component, such as production for a week, a day, etc., and the distance component over which the traceability operates, for instance, "one step forward, one step back" (SFSB) through to complete "field to fork" (F2F) traceability. 
Drivers
Figure 1 depicts the global forces that promote traceability, such as regulations, product safety, particularly recalls, product quality, and consumer demands, for instance, transparency. Nevertheless, global trade, supply chain transparency, and provenance are also significant drivers.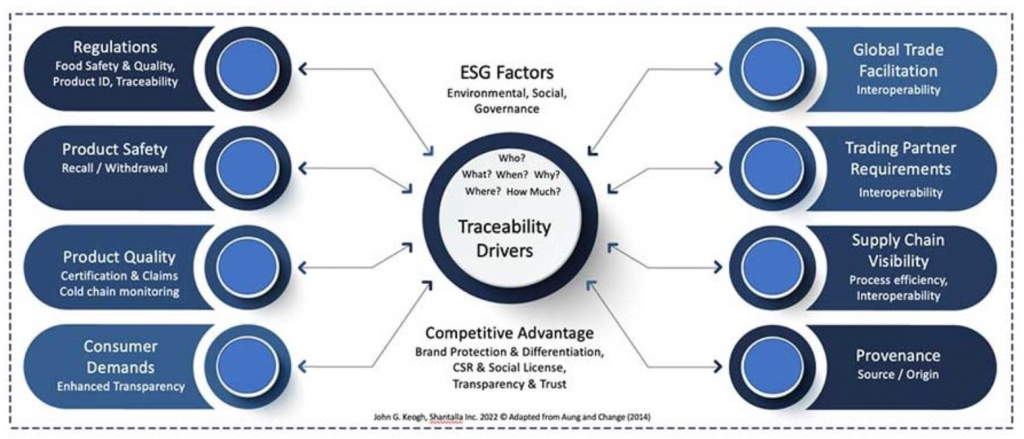 Figure 1: Traceability drivers Source: Keogh et al., 2023
Food Traceability
The article states that even though traceability is growing, there is still much to be accomplished. For example, F2F traceability is a topic of discussion, and in certain supply chains, it has been accomplished using analog, paper-based methods. Transitioning to digital traceability approaches has been proposed; nevertheless, there are challenges in gathering and spreading all information in supply chains (supply chain visibility).
For instance, in allergen management, such systems have direct effects on public health. Privacy laws, which restrict tracking consumer transactions without their consent, are an essential component of F2F traceability that is rarely discussed. Nonetheless, if organizations or government agencies had knowledge of the intake of every food item a household purchased, one could argue if this would be considered an invasion of privacy.
Consumer Privacy
Despite the awareness and understanding of the objectives of F2F traceability, F2F transparency may be a better alternative model for approaching this topic. One can argue that bringing food to market can require numerous suppliers and complex supply chains, while business-to-business (B2B) connectivity is frequently deficient between these systems. 
A customer typically has no access to information about all of the stakeholders involved in the supply chain, with the exception of business-to-consumer (B2C) transactions involving short or local value chains (e.g., a farmer selling meat at a farmers' market, their farm shop, or vending machines). Therefore, imagine a scenario in which a consumer scans a product's barcode. In such a case, they might be given limited access to a form of "fork-to-farm" traceback, typically having access to only marketing information and thus receiving little to no information on the route to market (the actual F2F traceability).
Transparency and Trust
Transparency should be viewed as a fundamentally essential tool for addressing stakeholder and customer mistrust, as well as for enhancing and confirming an organization's accountable leadership practices. This is regarded as establishing a food safety culture in the food sector. Therefore, one could argue that it is now time for executives at large food businesses to consider establishing and enforcing a transparent culture. The demand for food producers to offer safe, inexpensive, and nutrient-dense foods to the market is increasing as a result of disruptions and conflict.
Concerns regarding consumer safety, environmental politics, and sustainability led to the initial discussion of product-related transparency within the food industry. Transparency relates to the availability and visibility of data within food supply chains, as well as the promotion of relevant data to consumers in order to facilitate more informed purchasing decisions. Consumers may have access to specific product information that is made transparent (visible), such as information about the brand owner, the location of the raw materials and ingredients, the growing and harvesting methods, the manufacturing processes, the working conditions, and environmental effects.
In addition to maintaining product identity (by preventing fraud and counterfeiting and enlisting more governmental and customs support), providing this information to all stakeholders in the supply chain and to consumers can also help ensure food quality preservation (by verifying harvest/best before dates, etc.), food safety (by providing food safety advice and prompt recall notifications of contaminated food), and brand value preservation.1,2,3
Supply Chain Visibility
Visibility implies that specific data and information are readily available for either validation, monitoring, or verification of company or food-related processes and to comprehend both upstream (e.g., suppliers) and downstream (e.g., organizations involved in the business from supplier to end user) activities. Visibility of the supply chain is defined as "traceability and transparency of the supply chain process."
Moreover, visibility goes beyond the passive, transactional aspects of traceability. Traceability enables businesses to track a product or its components through a supply chain in both directions. Whereas visibility reveals what occurred at each stage, as well as the individuals, groups, activities, tools, and resources involved, and as a result, the probable impact on food safety. 
For instance, in the event of a food product recall due to glass contamination, traceability enables the organization in question to determine the quantity that must be recalled, the origin of the product's ingredients, as well as where and to whom the product was distributed. Visibility employs data beyond traceability documentation to identify what occurred at every moment in the value chain. Further, it gives information on whether preventive measures were in place and whether they were implemented. Thus, traceability, visibility, and transparency are the building blocks of trust. 
Conclusion
The article concludes that pressure is increasing to ensure that global food systems are resilient, sustainable, and compliant with environmental and human rights laws. Furthermore, traceability, transparency, and trust must also be integrated into food supply chains. Thus, the new German supply chain due diligence law, which took effect on January 1, 2023, demonstrates this. 
Therefore, transparency and trust are without a doubt crucial for the success of future food supply ecosystems; however, the implementation of these criteria in practice is still the subject of considerable debate.
References
J. G. Keogh, L. Manning, and S. Simske (2023) Global Food Chain Traceability—Reflections on the Past, Present, and Insights into Future Directions
Hofstede, Gert Jan. "Transparency in Netchains." EFITA 2003 Conference. Debrecen, Hungary, July 5–9, 2003.
Mol, Arthur P. J. "The Future of Transparency: Power, Pitfalls, and Promises." Global Environmental Politics 10, no. 3 (2010).
Molnár, Adrienn, Katrien Van Lembergen, Xavier Gellynck, Andras Sebok, and Attila Berczeli. "What Can We Learn from Best Practices Regarding Food Chain Transparency?" 2011 International European Forum. Innsbruck-Igls, Austria, February 14–18, 2011. https://ageconsearch.umn.edu/record/122030/?ln=en.
---
Related articles to Traceability in the Global Food Chain
Many customers and visitors to this page 'Traceability in the Global Food Chain' also viewed the articles and manuals listed below: