Scaling up inclusive innovation in agri-food chains in Asia and the Pacific
The article examines innovation along the entire food supply chain, including production, manufacturing, and retail. The extended value chain is also included in this analysis, for instance, input supply, financial services, and agriculture support services. Digital technologies such as precision agriculture, agricultural drones, digital farming services, marketplaces, and creative business models like plant factories and crowdsourcing for farmers, are enhancing yields and making primary production more robust. For example, data and robotics can increase productivity and food safety in the production process. In addition, payments can be made, and food goods may be tracked back along the supply chain due to distributed ledger technology, like blockchain, which increases transparency and trust.
Thus in this paper, these innovations are discussed and exemplified with cases from countries in the Asia – Pacific (APAC) region. By identifying emerging trends, the article analyses the nature of these innovations, how they are changing food systems and value chains, whether positively or poorly, and how to deal with trade-offs.
Where does innovation in the food supply chain happens?
According to the FAO article, innovation occurs throughout the whole value chain, from food production to manufacturing to retail. In recent decades, APAC has experienced overall economic growth, fuelling changes in the agricultural, food, and structural systems. Some of these transformational changes are the result of poverty eradication. Furthermore, other trends led to opportunities for achieving the SDGs. Examples of these trends are the digital economy, pressure on natural resources, environmental degradation; migration; expanding inequality, aging of the population in general and the farm population in particular; and a growth in the frequency of natural disasters. Therefore, these demographic trends, rising technologies, and shifts in consumer behavior are essential forces behind developments in the local food systems.
Innovation offers a significant chance to speed up the change of the food systems and meet their significant challenges. The article states that the world's food systems must feed 7.8 billion people, and it must do so while safeguarding the environment and ensuring inclusive livelihoods, particularly in rural regions. Changing how food is produced is necessary to accomplish this at the appropriate speed and scale. Thus, to achieve this, the call for systematic innovation is there.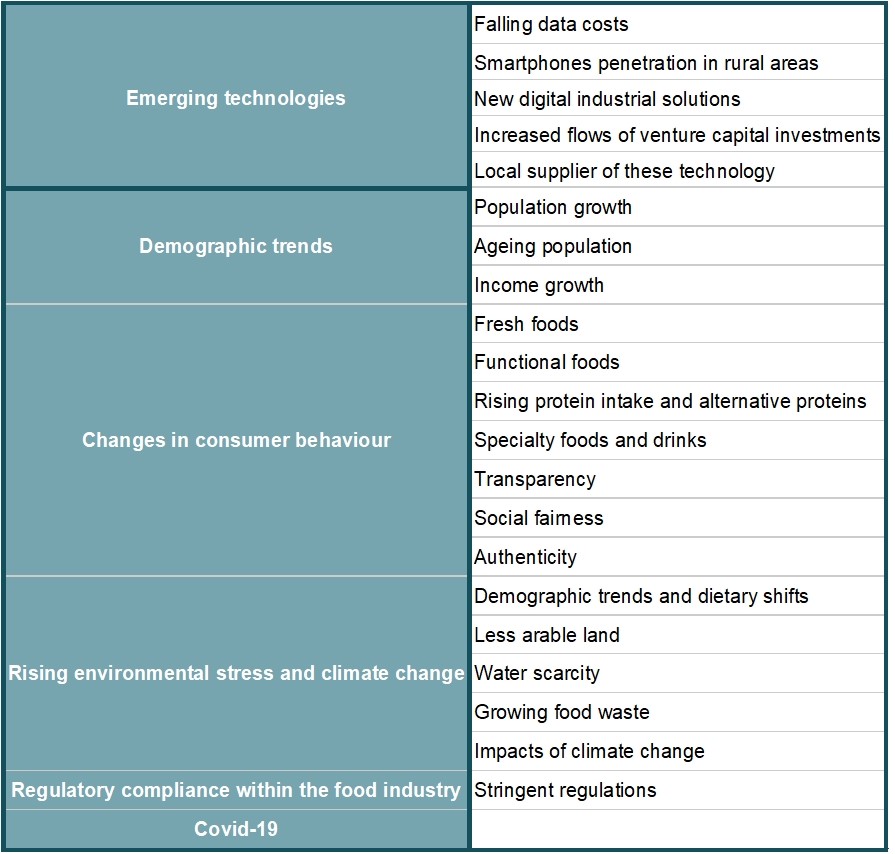 Overview of innovations
The various technology and business model improvements examined in this paper along the value chain are depicted in Figure 1. The figure highlights the recent significant technological change in agriculture; precision agriculture, which uses big data, drones, sensors, and farm management software, as well as new modes of funding and marketing, are critical components of this transformation. Moreover, the past few years have seen steady innovation from food producers and merchants. Through automation (changing machine functions) and digitalization (using digital technologies and digitized data turned into intelligence and actionable knowledge), they have redefined their cost structure and rethought their products, operating models, and platforms to meet current and evolving consumer needs. Thus, the entire agriculture and food sector have been pushed into the digital era by e-grocery companies in particular.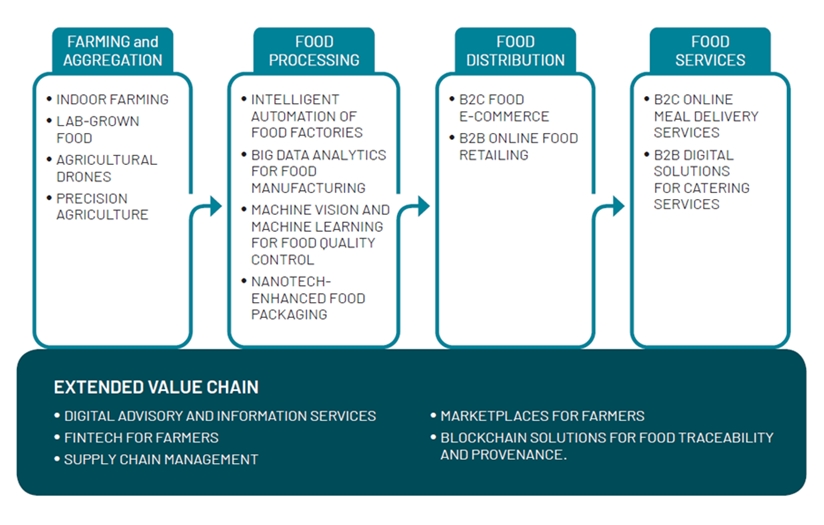 Nevertheless, automation and digital technology are paving the way for Industry 4.0, Retail 4.0, and Agriculture 4.0, commonly referred to as the Fourth Agriculture Revolution (FAO, 2020b; FAO, 2019b). To address changing consumer expectations, stakeholders in the agri-food supply chain are utilizing digital technology and data that has been transformed into intelligence and usable information (see Figure 2). Furthermore, all along the value chain, from food retailing and services to farming or food manufacturing, these digital and physical technologies are used for various objectives. Figure 2 illustrates the various technological advancements in digital and automated technologies currently being used at various levels of the value chain, from agriculture to food services. It demonstrates how changes brought through the digital revolution have affected how food is produced and distributed, particularly through online grocery and meal delivery services. It also describes how information is distributed along the value chain using tools like blockchain-based traceability systems and digital platforms for farmers.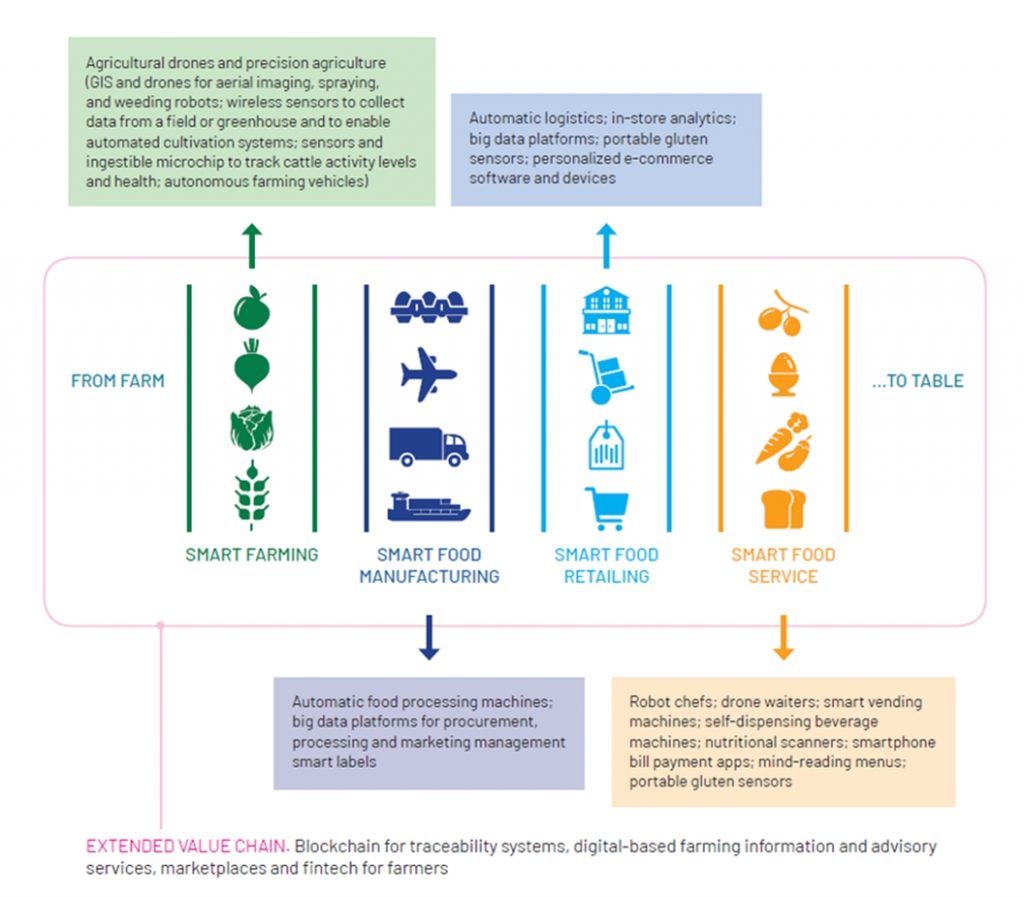 Some applications of digital technologies seek to enhance the marketing of food products and services. In contrast, others target maximizing efficiency in production (e.g. use of water and energy throughout the value chain), enhancing traceability through integrating technologies in systems (e.g. big data and AI are used in combination, along with the drones), or reducing risks. The last group includes applications for lowering risks in agricultural production as well as those related to emissions and climate change, such as using drones to identify crop pests and illnesses at an early stage of production.
Nevertheless, there are opportunities for digitalization at every stage of the value chain, including both on and off farms. There is a lot of evidence in Asia that all parts of the food value chain are going through some digital revolution.
The report highlights critical areas where agricultural and food systems innovations are taking place in the APAC region, focusing on those particularly important for smallholder farmers, small businesses, and less developed countries in the region. Therefore, more in-depth information regarding each part highlighted in figure 1 can be found in the paper.
Opportunities and challenges in adopting innovations
The innovations (figure 1) emphasized in the FAO article may have positive as well as negative impacts on the environment, society, or the governance of food systems and value chains. Furthermore, the challenges and risks are described as well along the value chain and the entire food system in table 2. Additionally, the report highlights policy solutions for inclusive and sustainable value chains.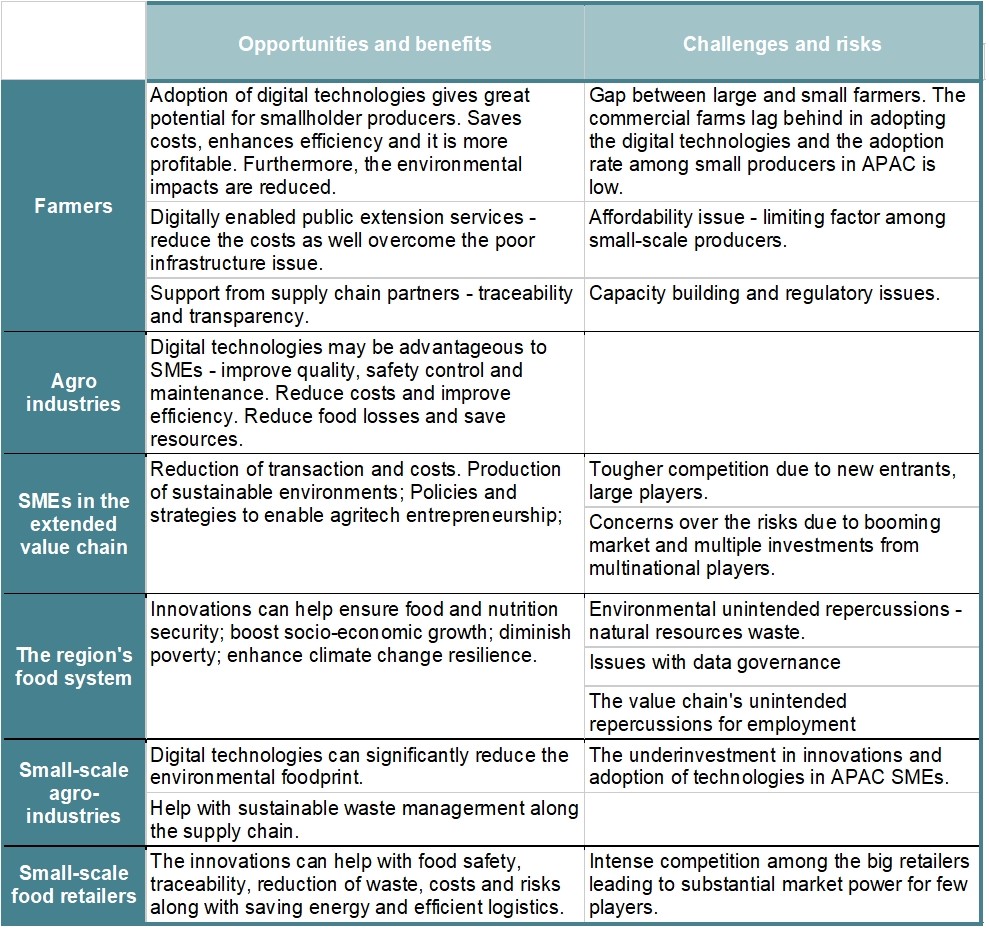 Key findings of the paper
"Lesson 1:  APAC policymakers need to comprehend the nature of innovations along food value chains, articulate them and reflect them in their policies."
"Lesson 2: Innovations in agricultural value chains are driven by changes in demand, in technological factors, and in enabling environment."
"Lesson 3: Innovation is key to enabling APAC countries to future-proof their food systems and value chains."
"Lesson 4: The region has a dual innovation ecosystem."
How to boost inclusive and sustainable innovation in food value chains
Galvéz stated in the FAO report that the following steps are crucial in accelerating inclusive innovation:
"Creating a strong agri-food innovation ecosystem
Fostering greater collaboration between corporations, investors, accelerators, universities, and startups
Harnessing the power of digital technologies
Putting farmers and SMEs first
Supporting the development of digital business models that provide services to the bottom of the pyramid
Building capacities along food systems.
Overcoming regulatory challenges.
Analyzing and managing the impacts of digitalization and other new technologies
Rethinking food value chains in Asia and the Pacific after COVID-19."
References 
Gálvez, E. (2022). Scaling up inclusive innovations in agri-food chains in Asia and the Pacific.
FAO. 2020b. Bytes to Sustain Our Bites: Leveraging Digital Agriculture for Sustainable Development Goals (SDGs). Special Event Paper at the FAO Regional Conference for Asia and the Pacific Thirty-fifth Session. Bangkok, FAO. http://www.fao.org/3/nb844en/nb844en.pdf
FAO. 2019b. Digital Technologies in Agriculture and Rural Areas Briefing Paper by Nikola M. Trendov, Samuel Varas, and Meng Zeng. Food and Agriculture Organization of the United Nations, Rome. http://www.fao.org/3/ca4887en/ca4887en.pdf
---
Related articles to Innovation in agri-food chains Asia and the Pacific
Many customers and visitors to this page 'Innovation in agri-food chains Asia and the Pacific' also viewed the articles and manuals listed below: