Real-time compliance vs Certification
Real-time compliance vs Certification: Every morning, I run a little bit and sometimes, a picture appears.
Data records iMIS Food
iMIS Food records 50.000 Food Safety data items a day of a Food Company and can make a yearly compliance report based on 10.000.000 Food Safety data items and a compliance database with 30.000 records.
Food safety audit
During a yearly Global Food Safety Initiative (GFSI) audit for FSSC 22000, BRCGS and IFS – International Featured Standards or a Food Safety Authority system audit, normally 1000 checkpoints are addressed.
Hybrid: certification and real-time solution
I think the combination of an accredited audit and real-time food safety compliance gives the most trust. Time for real-time food safety system certification.
Real-time food safety system certification should be based on how companies are organized. A benefit of real-time monitoring will be that the Food Safety auditors can spend more time on validation and food safety culture, in the end, it's a people business. Real-time monitoring can also facilitate unannounced GFSI checks when, e.g. a HACCP alert is sent to the Certifying Body that registration is not happening or corrective actions are not executed in time.
The food company
As a Food company, I will more trust an audited supplier by a certifying body than being facilitated with a real-time online dashboard. Everyone benefits from a well-functioning accredited audit process. We have to work together to ensure that this is done effectively.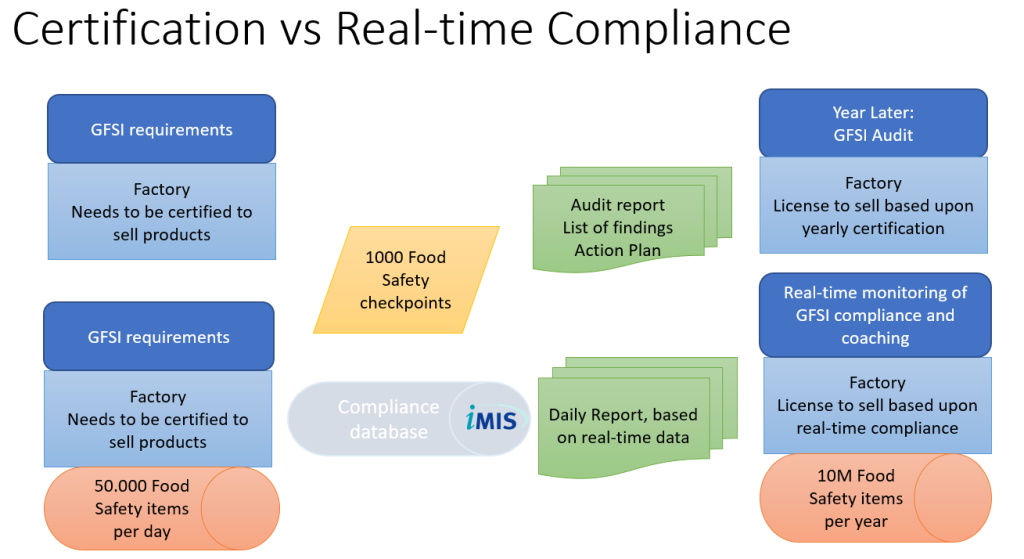 ---
Related articles to Real-time food safety system certification
Many customers and visitors to this page 'Real-time food safety system certification' also viewed the articles and manuals listed below: