Introduction The Food Export team goes to Rwanda
On the 27th of September, the Food Export Team members Andrada and Nele began their journey to Kigali, Rwanda. They spent a week there with the purpose of networking, checking the iMIS Food status at Winnaz, and attending the Poultry Africa fair. Moreover, with this trip, the team slowly starts to develop the food safety hub in Rwanda.
Visiting Hollanda Fair foods – Winnaz
Using potatoes acquired from Rwandan smallholder farmers, Hollanda Fair foods transform them into high-quality potato chips that are marketed under the Winnaz brand. iMIS Food has been implemented at Hollanda Fair foods for more than one year now to ensure food safety and high quality to the consumers. During this trip, Andrada and Nele had the pleasure of seeing the factory in Muzanze and their office in Kigali, which was used for different meetings. Winnaz together with Yanna from TRAIDE helped with organizing meetings with different professionals within the food industry. Winnaz mainly uses the iMIS Handbook and the quality manager was pleased with the system.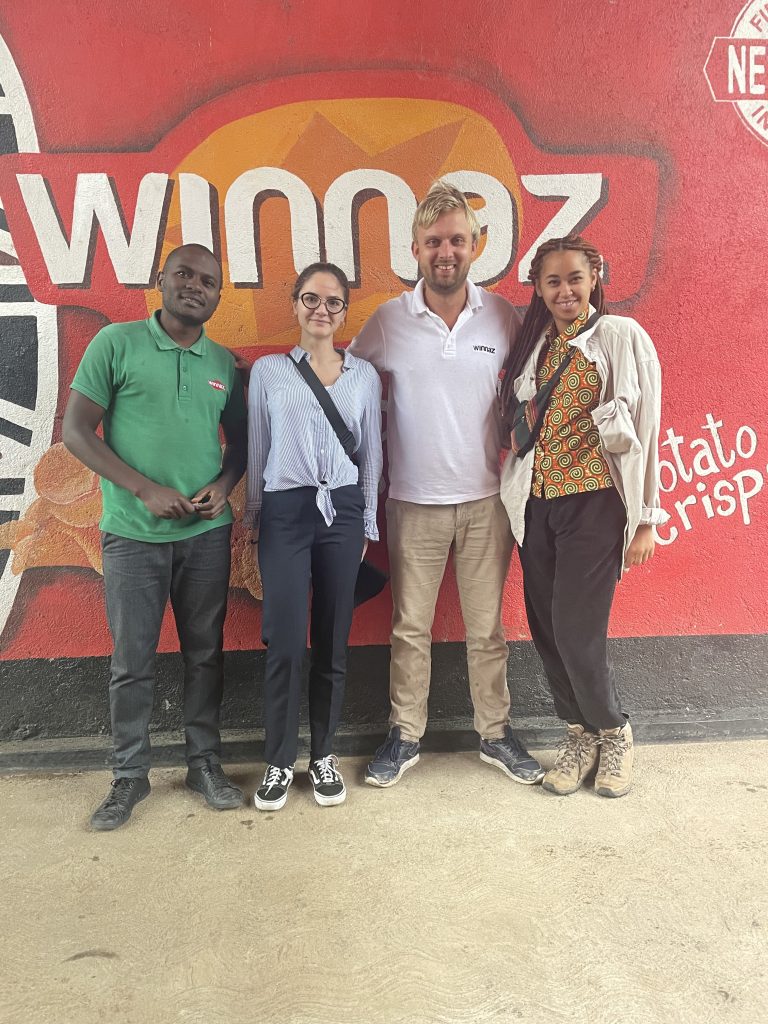 Video
Poultry Africa
The event took place in Kigali at the Convention Centre. The third edition of Poultry Africa was the largest yet, with over 120 exhibiting companies from more than 20 countries. The conference program included several sectors of the poultry production chain, such as biosecurity in agriculture, water management, food security, and animal health.
At this event, Andrada and Nele networked and introduced the Food Export Program and iMIS Food. Certifications such as BRC, IFS, or FSSC22000 are necessary when poultry processors consider the export market.
The Food Export Program
iMIS Food Safety Management system is implemented in Rwanda, at Hollanda Fair Foods, producing Winnaz crisps, and at FOGA, an organic gum factory in Sudan. Furthermore, webinars on GMP and food hygiene were given to farmers and food processors in Uganda, Nigeria, Kenya and Ethiopia in different sectors such as poultry, fruits and vegetables.
By utilizing our iMIS Food, the time and costs associated with the certification process can be reduced, resulting in faster export opportunities, improved supplier relationships, and more straightforward HACCP implementation. Therefore, food companies will benefit from increased access to global markets and trade by obtaining higher-quality products and GFSI-recognized certifications. Furthermore, ensuring safe and high-quality food products in agri-food chains will improve the nutrition and health of people in emerging countries.
By using a quality management system and the proper procedures, food loss can be mitigated as well as the waste of income and natural resources.
The Food Export Team is currently working on establishing a food safety hub in Rwanda and helping the local community. With the help of Food Safety Compliance experts, trainings and food producers will be enabled to become food safety professionals. The Food Export Program aims to share the right knowledge and enhance food safety practices amongst small producers and domestic markets. Based on the research, SMEs active in the food industry do not have access to the right knowledge when it comes to food safety, therefore, QAssurance wants to enhance food safety in emerging countries with the help of iMIS Food platform.
iMIS Food
iMIS Food offers a complete software platform to manage food safety. iMIS offers multiple digital solutions to aid the company in complying with the latest legislation and standards. iMIS digital solutions:
---
Related articles to The Food Export team goes to Rwanda
Many customers and visitors to this page 'The Food Export team goes to Rwanda' also viewed the articles and manuals listed below: