Introduction fighting climate change to alter agri-food systems
Climate change is having a growing impact on agriculture and food, and it can no longer be disregarded as a threat to human survival. Despite this being a global danger, producers and consumers in less developed nations are particularly vulnerable due to a lack of resources and the ability to cope with it. Thus, there is an urgent need to take action.
This paper by the Asian Development Bank (ADB) gives an overview of the program for the Asia-Pacific Rural Development and Food Security Forum (RDFS Forum 2022). It focuses on four main themes: sustainable and inclusive food systems and the role of digital technology; financing sustainable agriculture and natural capital; nutrition security and the double burden of malnutrition; and the rural-urban divide.
Climate change
Climate change poses an existential threat to society since it has a direct impact on agriculture and food availability. Moreover, this finding is supported by global occurrences like the COVID-19 pandemic, extreme weather events, high energy prices, and armed wars. All combined led to what has been called a "perfect storm" in the global agri-food value chain. Because of this, food security is less certain than it was in earlier decades for consumers in economies of all sizes.
Asia and Pacific region
The smallholder sector dominates the Asia and Pacific region. But a lot of smallholders only make around one-third of the minimum livable wage. Also, their output is frequently well below the potential of the resources they use. Thus, small-scale farmers frequently face financial difficulties. The COVID-19 pandemic has made things worse. Yet, the effects of climate change have become more pronounced and harmful due to rising average temperatures, deadly heat waves, extreme precipitation events and floods, strong hurricanes, drought, and changes in the water supply.
According to the report, by 2050, it is predicted that countries in the Asia Pacific region will face significant increases in heat and humidity, as well as an increased tendency for intense precipitation and storms. As the physical limits that impact humans are reached, the capacity to labor outside will be hampered. This implies that agriculture and rural industries will be the most affected. These countries also have limited resources for adaptation, such as less accessible credit and finance and less well-established systems.
Furthermore, the double burden of malnutrition and related diseases is one of the most serious nutritional concerns in many developing countries. This refers to undernutrition in children and infants coexisting with obesity and overnutrition in adults. According to the article, South Asia has some of the highest rates of stunting, wasting, and underweight children worldwide. This also holds true for people who lack iron, vitamin A, or zinc, or who are micronutrient deficient. In Asia and the Pacific, however, two out of every five adults are overweight. As of 2022, one billion people in the area are overweight or obese, which is the greatest absolute amount.
Sustainable and Inclusive Food Systems
This paper outlines how future agricultural and rural development conversations and decisions should look. To meet future demand for sustainable food, the global agriculture and food system must undergo a remarkable transition. Although the situation could be seen as a crisis, it is also an opportunity. 
By investing in climate-smart agriculture, which increases the resource efficiency of agricultural producers and the resilience of food production and distribution networks, the agri-food value chain may increase productivity and lower emissions. The agri-food value chain and farmers must produce more with fewer resources. However, in order to fulfill this possibility, millions of smallholder farmers must participate in the private sector, particularly agri-entrepreneurs.
Emissions, climate change and productivity nexus
Agricultural production systems contribute to emissions and have a detrimental impact on farming and the food chain as a result of climate change. According to a water resource modeling exercise conducted in 2017, 20 percent of Asia may face severe water scarcity by 2050 (Satoh et al. 2017).
Furthermore, agricultural land and soil resources are being depleted mostly as a result of either unsustainable agricultural intensification or ineffective farm management. According to the paper, around 43 percent of the agricultural land in South Asia is degraded. 31 million hectares are already severely degraded. Soil erosion, chemical deterioration, heavy metal pollution, and physical deterioration are all characteristics of farmland degradation in the region.
Rising meat and dairy consumption in Asia, as well as land reclamation and cultivation, contribute to the worldwide increase in emissions. The growth in global emissions is, in part, caused by increases in the consumption of meat and dairy products in Asia. During 1980–2020, meat consumption nearly tripled, and during 2010–2020 it increased by more than 30 percent. Dairy consumption increased by 70 percent between 1980 and 2020.
Impact of COVID-19
The pandemic was the ultimate disruptor of the agricultural food chain. It negatively impacted and constricted consumer choices and demand, domestic supply and foreign trade, food availability and nutrition results for rural and urban people, as well as continuous attempts to enhance agricultural production and the rural environment. 
Thus, consumer diets and nutrition were negatively impacted in Asia and the Pacific region. Consumers in several Asian countries have either lowered their consumption of healthful foods or switched to cheaper calorie-rich foods. As a result of lower salaries and unemployment, people reduced the number of their meals and avoided eating dense foods. Overeating and poor nutrition have been noted in urban homes as coping mechanisms for stress.
Science
Methane emissions from domestic animals increase as demand for milk and meat rises in developing economies. Nowadays, scientists and technology provide numerous solutions to address this. Crop and livestock output can be increased by improving genetics, implementing contemporary husbandry techniques, and implementing innovations in harvesting, feeding, and waste reduction systems that reduce methane emissions. Agriculture digitalization, biotechnology, unique agricultural environments, production systems, robots, and novel foods (alternative proteins) are just a few of the topics that can assist farmers and value chain actors in delivering more from less.
The digital revolution
Digital technology application is no longer a theoretical concept, and these instances show how digitalization might disrupt agriculture and the food system (Figure 1). 
Several analysts anticipate disruptive innovations as possible ecosystem savers in 2022. Furthermore, disruptive technologies can boost farm productivity and the value chain while also improving sustainability and nutrition security.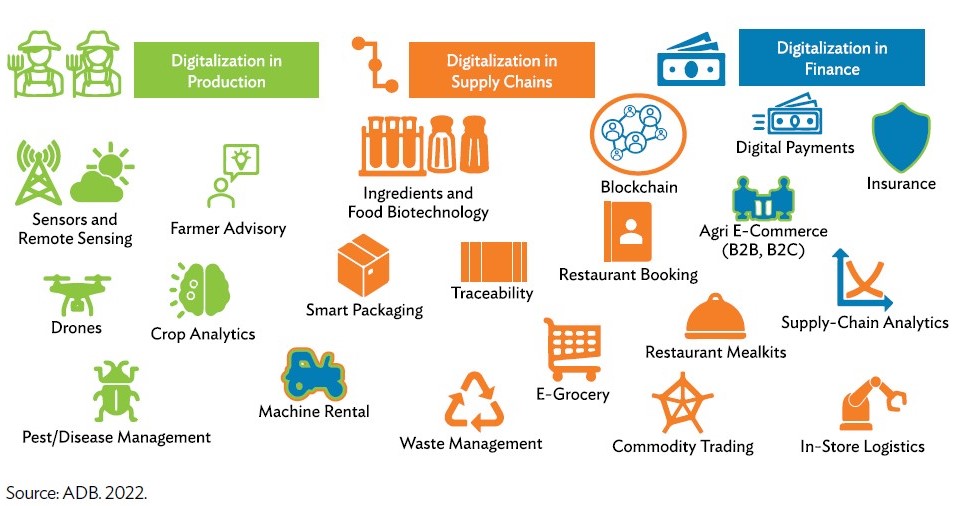 Financing Sustainable Agriculture and Natural Capital
Climate change is commonly acknowledged to have a tangible impact on biodiversity, agricultural production, and food security. Expanding agricultural production, on the other hand, accounts for up to 80 percent of biodiversity loss and is a major contributor to climate change via GHG emissions.
Furthermore, declining biodiversity speeds up global warming and changes weather patterns, resulting in climate change with negative effects on agriculture. Thus, agriculture output, biodiversity, and climate change have formed a vicious circle that must be disrupted. Increasing the base of natural capital to increase biodiversity could provide a long-term solution to this challenge. 
Natural capital includes forests, agricultural land, the atmosphere, the oceans, and mineral resources. These natural resources supply a variety of ecosystem services, such as food, water, energy, and shelter, that are essential for human survival. Natural capital is a major driver of economic growth, accounting for 20 percent–55 percent of total national wealth, yet it is rarely assessed or addressed in national budgets and investment decisions. Therefore, natural capital requires an accounting system.
Nutrition Security
The condition of global food security is concerning. According to the UN, it is estimated that none of the major nutrition indicator targets will be achieved.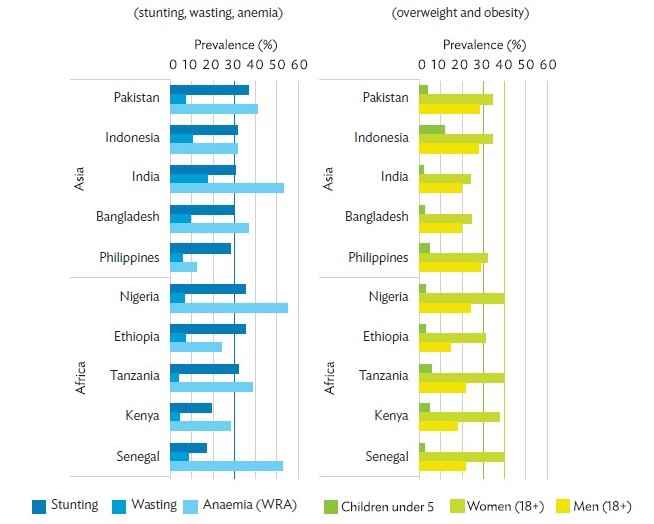 The majority of malnourished children live in Africa and Asia (Figure 8). In 2020, nearly half of all children under the age of five who were overweight lived in Asia, and more than a quarter lived in Africa. Southeast Asia and northern Africa have seen a considerable increase in the number of overweight children since 2000. In a few countries, about 8.7 million children under the age of five were overweight. Half of these children were from India and Indonesia.
These figures are part of the evidence base that shows why developing countries need to work on promoting food security while avoiding foods that are not nourishing or that foster adult overeating and result in the ill health associated with obesity. According to this paper, obesity now outnumbers undernutrition on a global scale. Obesity prevalence is catching up to undernutrition in the developing world, whereas there is more obesity than undernutrition in transitioning economies.
The Rural-Urban Divide
Even in developed economies, there is a disparity between rural and urban inhabitants. The disparities between rural and urban people affect a significantly larger proportion of the population in less developed countries. Moreover, unlike in wealthy economies, these shortcomings are likely to have a far greater influence on economic growth. Additionally, they may also have an impact on local and national climate change.
To feed themselves, poor rural inhabitants are more likely to overstock their livestock on pasture or cut down trees and forests. As a result, rural poverty is characterized by local food insecurity, which contributes to national and global food insecurity. 
Reduced urbanization, which is often so rapid that it overwhelms urban regions' capacity to accept migrants, could be achieved by providing and enhancing important services in rural areas. For instance, some of these services involve education and developing urban farms. 
Conclusion fighting climate change to alter agri-food systems
The report concludes that the issues confronting developing and emerging economies are becoming more widespread. Since 2000, there have been indicators that a global consensus seeking unity and cross-border collaboration to address these difficulties has evolved and may be sustained. 
Meetings and announcements related to key intergovernmental organizations, such as the 2030 Agenda for Sustainable Development, the Paris Agreement, and the United Nations Climate Change Conference, have accelerated in recent months. Therefore, this is generating advice and prescription for the realignment of policy ideas, targets, and reforms, as well as the implementation of evidence-based interventions. 
Furthermore, a global effort is ongoing to reorient humanity's economic and environmental actions. The development community (donors, agencies, banks, and partners) is playing a role in this reorientation, as seen by contributions to the 2022 forum. Last but not least, the Asian Development Bank (ADB) has increased its engagement with other partners to implement ideas and proposals made during the event, in addition to enhancing its existing initiatives.
Sources
ADB.  2022. Battling Climate Change And Transforming Agri-Food Systems. Asia–Pacific Rural Development And Food Security Forum 2022 Highlights And Takeaways
M. Arabi. 2022. Double Burden of Malnutrition, Double Duty Actions. Quoted in ADB. 2022. Rural Development and Food Security Forum 2022. Manila.
Y. Satoh et al. 2017. Multi-model and multi-scenario assessments of Asian water futures:The Water Futures and Solutions (WFaS) initiative. Earth's Future. 5 (7): pp. 832–852. https://doiorg/10.1002/2016EF000503.
---
Related articles to Fighting Climate Change to alter Agri-Food Systems
Many customers and visitors to this page 'Fighting Climate Change to alter Agri-Food Systems' also viewed the articles and manuals listed below: