A Food producer needs to supply a safe product to the consumer. Companies in the Food Supply Chain must comply with the applicable Food legislation.
Customers also demand extra security in the form of quality standards such as the British Retail Standard (BRC) , the International Food Standard (IFS) and Food Safety System Certification (FSSC) 22000.
Furthermore, a producer depends on the performance of its suppliers. Changes in a raw material specification can affect the end product. Promises to consumers with regard to transparency and integrity need to be monitored on a daily basis.
The Global Food Supply Chain benefits from Food Safety, Traceability, Transparency and Integrity. With iMIS Food Global, Food companies can be monitored in real-time worldwide.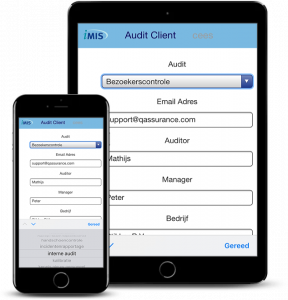 Description of iMIS Food
iMIS FOOD is the abbreviation for Integrated Management & Information Systems - for Food Safety Compliance. It is an integrated Food management information system that focuses on five factors:
Food Standards
Food Legislation
Suppliers
Customers & Consumers
The Food Company
iMIS Food is more than a software package, it is a knowledge management system for Food Safety Compliance.
iMIS Food is a fully equipped Food Safety platform. Food companies are enabled to comply with all legal obligations in the field of quality and safety.
Unique is the in-house software development and the installation of an iMIS Food server at the Food company. The predefined content for Food Safety Standards and Legislation has been validated in more than 1000 audits and is renewed weekly (English and Dutch).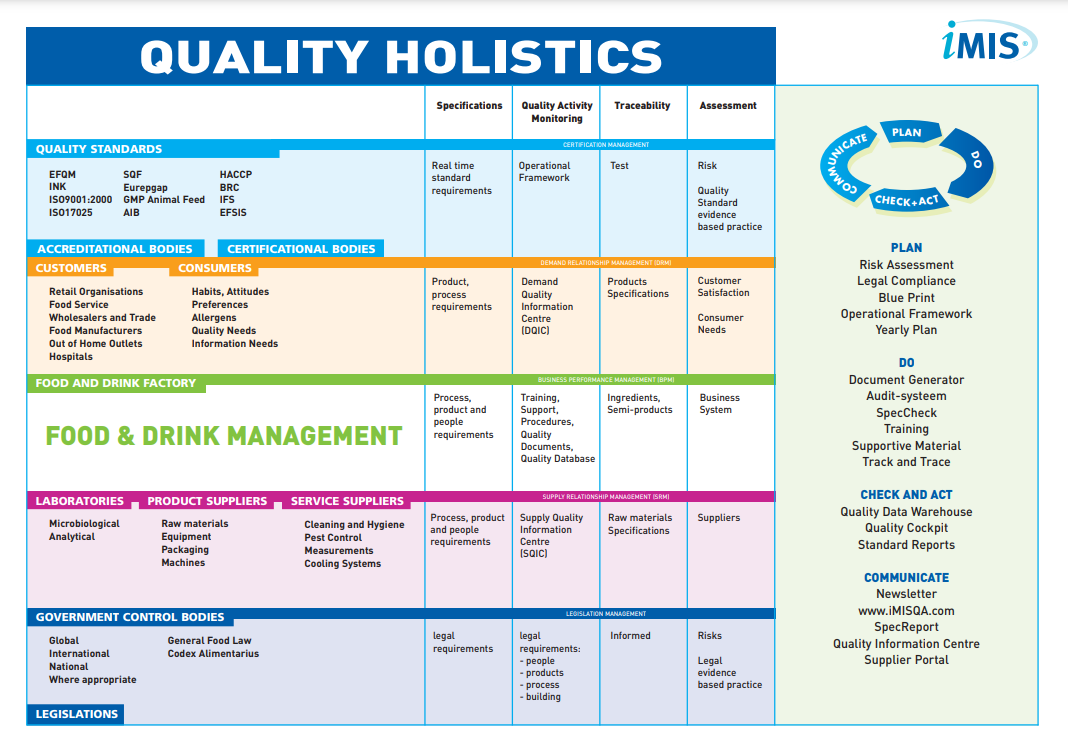 iMIS Food Benefits
With the introduction of iMIS FOOD, a saving on quality costs of 40 - 60% can be realized. iMIS FOOD is a fully integrated quality system that makes food safety and quality independent of one expert.
The Food company itself retains control over the Food Safety system. New requirements and changes are monitored centrally and processed in iMIS Food, so that customers have the certainty that they always meet the latest Food Safety and Food Legislation requirements.
All Food Safety data is available in real-time and this confidential information is stored on a server at the customer. Food companies can use iMIS Food as a strong selling point to their customers.
iMIS Food: Connect to Comply

iMIS Food is a fully equipped Food Safety platform. Unique is the in-house software development and the installation of an iMIS Food server at the Food company. The predefined content for Food Safety Standards and Legislation has been validated in more than 1000 audits and is renewed weekly (English and Dutch).
The online (90%) supported iMIS Food implementation process includes 6 to 10 days of support per location and has a lead time of 3 months.
iMIS Food includes for example:
Quality Manual system
Digital Audit reporting system
Specification management system
Quality Manual system
The manual system contains all general company information, procedures and instructions required to produce food safely. The system is divided into a generic part and a company-specific part. The generic procedures and instructions apply to any food company wishing to comply with, for example, FSSC22000. The specific section contains all company-specific procedures and instructions, which arise from the HACCP study, among other things. This hazard study and risk analysis requires additional Food Safety registrations to demonstrate compliance.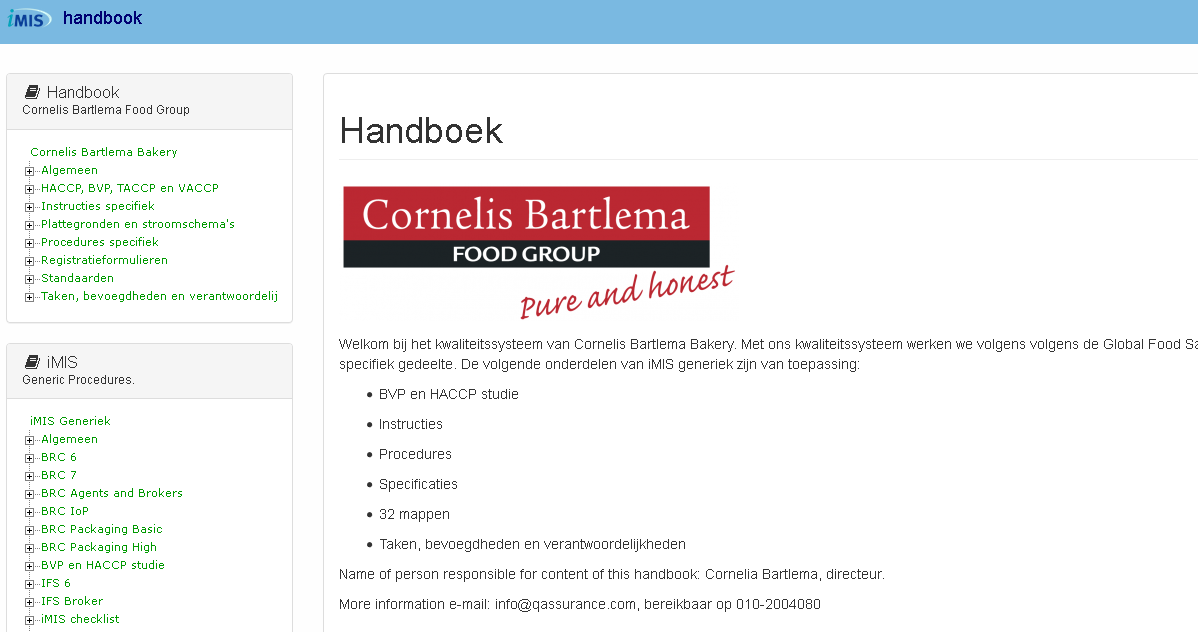 With the iMIS Food updates, everyone is kept informed of changes in legislation and changes in quality standards. BRC, IFS and FSSC22000 are usually renewed every 3 to 4 years. Nevertheless, system adjustments are already required in the meantime. Certifying bodies meet every quarter to harmonize their assessment method (due to GFSI requirements). As a result, the way in which a BRC or IFS requirement is interpreted and thus the way in which a system is assessed is subject to change. Because iMIS Food is checked weekly by the government and certification bodies, it is possible to respond to this and, if necessary, the generic system is adjusted. In addition, the iMIS Food Quickscan performed on location with QAssurance also ensures that all practical and architectural issues are safeguarded.
This total approach to quality standards is necessary due to the way in which customers deal with the certification result. Some retail organizations only accept BRC at A level. This is not easy, because with more than 10 comments the score is already at least B level. Because several companies are connected to iMIS Food, it is also possible to object to certification results on a more founded basis.
Audit reporting system
The audit reporting system makes it possible to execute inspections with a mobile device like a telephone ore tablet. These rounds are automatically reported. These check rounds are prescribed in the generic part of the manual system.
For example, BRC and IFS requires to have an inventory list of glass and hard plastic and check these elements. By including this glass inventory list in the auditing system, the inspection of glass and hard plastic are recorded. This also applies to other control rounds, such as cleaning result, cleaning output, hygienic working, etc.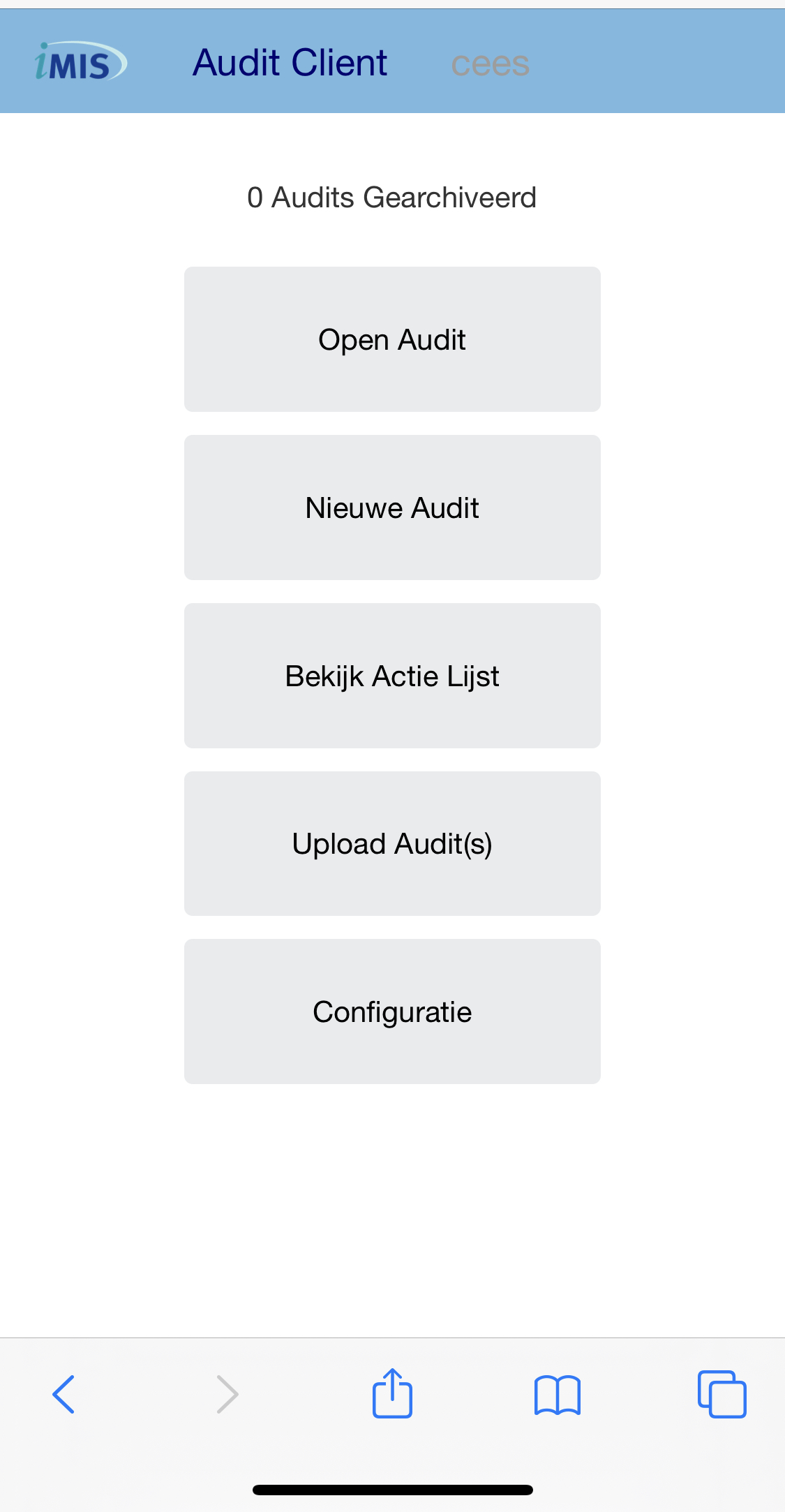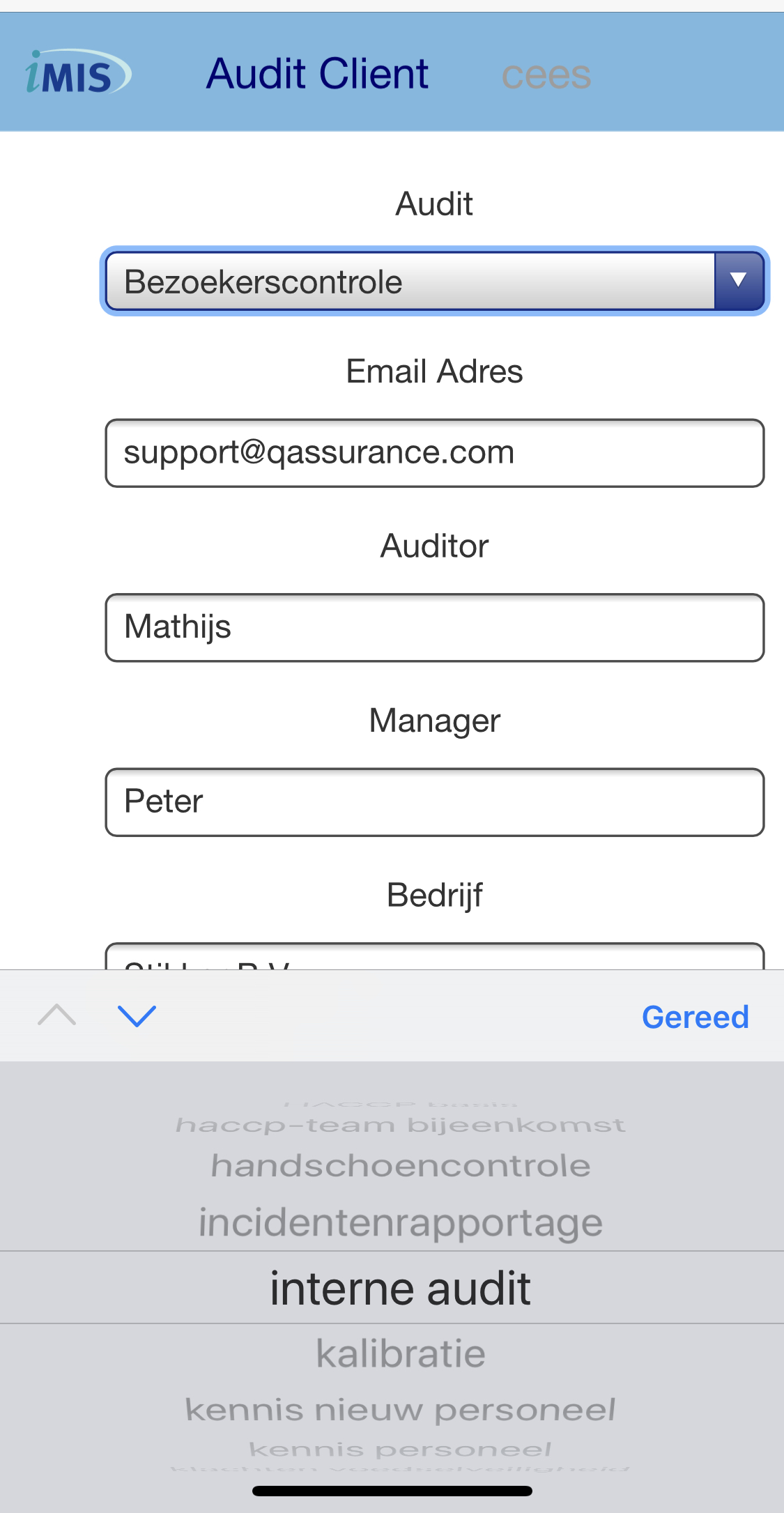 Depending on the size of the company, inspection rounds can be combined into a day and a week round. In addition to conducting inspection rounds, the system can also be used to report incidents. If a lamp is broken, this can be reported immediately via the same glass frame. All observed imperfections or possibilities for improvement can be collected in this way.
All findings end up in a central overview for corrective measures. In this overview the cause of the problem can be recorded and the decided action for improvement. Ultimately, it can be established by means of a final check (verification) that the problem has been resolved. With this way of working, the company has demonstrable that all items have been checked. However, it is important to update the checklists if, for example, a new machine is installed somewhere. This presumably requires adjustment of the hard plastic frame and the cleaning check.
Specification management system
Contracts with customers require detailed product specifications in addition to signed delivery terms and certificates. More and more information is recorded in these product specifications due to consumer questions. The ingredient structure of the product, allergen information, nutritional values, shelf life, logistics data, etc. Often, a product specification prescribed by the customer contains 5 to 10 pages of detail about the delivered product. Because these pages are part of the contract, extreme accuracy is required in completing the document and complying with it. Negatively, you give the customer many possible reasons to return the product, if it does not meet the agreed characteristics.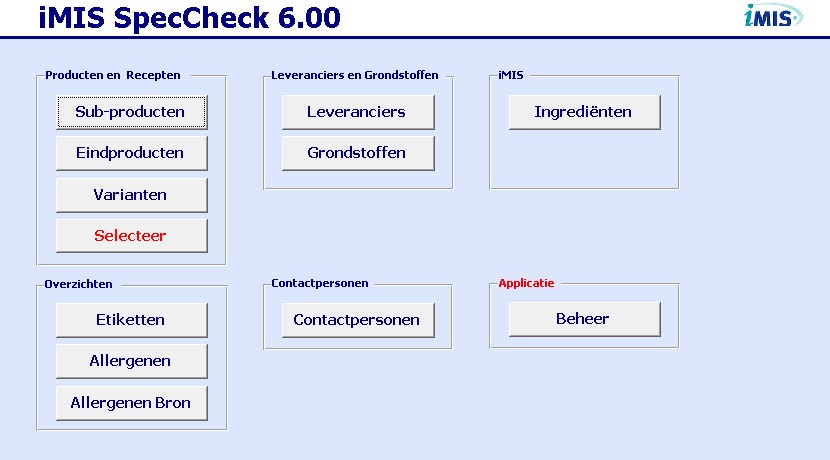 In order to arrive at a correct end product specification, the following minimum is required:
approved suppliers and raw material specifications;
complied with recipes with version management;
approved end product specifications;
and approved label information equal to the final product specification.
Legislation requires that at least the critical allergens are listed on the label, including peanuts, nuts, sesame and milk protein. The lack of this allergen information can already result in a recall. With iMIS Food it is demonstrably possible to handle specification management with precision, down to the detail level of the ingredient. It is also registered which changes took place by whom and when. This substantiates why a product specification has been changed.
iMiS Food includes:
iMIS Food Handbook, the management system for the quality manual
iMIS Food Audit, the management system for the inspections and audits
iMIS Food SpecCheck, , the management system for recipes, specifications and labeling
iMIS Food Tracking, the management system for traceability
iMIS Food Intranet, the central documentation system
iMIS Food Portal, the management system for Food Supply Chain communication
iMIS Food Updates, the update system for legislation, hazards and standards
iMIS Food Helpdesk, the daily support by Food Safety experts
Portfolio with an id of "ukpages" is not defined.