The Company ProFound
ProFound aids entrepreneurs in the natural ingredients business in developing markets. From manufacture through the market entrance, the firm assists in capitalizing on economic potential. They strive for sustainable local development by providing value to producers and preserving local nature. Together we aim to do more projects, helping the local markets to become export-ready with the food security program.
ProFound and Sustainable development goals
The organisation directly contribute to the UN Sustainable Development Goals 1, 8, 13, 15, and 17 through its mission and operations. Profound operates in a range of international regions, collaborating closely with entrepreneurs, industry organisations, and foreign customers. Sustainable growth is a key value and a top goal for Profound. As a result, their services adhere to the following ecological and social ideals.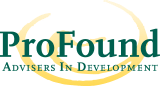 ---
Related articles to ProFound collaboration with QAssurance
Many customers and visitors to this page 'ProFound collaboration with QAssurance' also viewed the articles and manuals listed below: