The past years have seen an uprise in the adoption of plant-based diets. Nevertheless, while consumers are lowering their consumption of animal-derived goods for a variety of reasons, many still crave the distinct flavor and texture associated with animal products. Hence, developers are creating and marketing several plant-based substitutes that mimic the eating experience of animal-based goods. [8]  
Introduction  
Analysts expect the global plant-based food market to reach $77.8 billion in 2025 and they predict it will more than double by 2030. [7] According to the most recent Rakuten Insight study, many of the panelists questioned have tried plant-based alternatives, and several goods, such as milk, cheese, and meats, have already been accepted into diets across our panel markets as shown in Fig.1 [6] 
Although this seems to be a positive trend, food safety aspects of the food should not be overlooked. The following article offers an overview of the safety hazards associated with plant-based products, legislation in place, and recommendations for the future.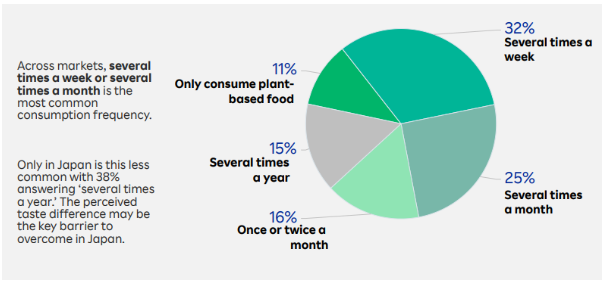 Driving factors from consumers to choose plant-based alternatives 
Perceived healthiness compared to animal-derived products is the most important driving factor leading consumers to plant-based alternatives. According to Rakuten's survey, healthiness is a core benefit of plant-based alternatives, indicating a lasting will to include plant-based alternatives in the diet. Additionally, other driving factors for this growth are consumers' concerns about the environment, sustainability, and animal welfare. [6]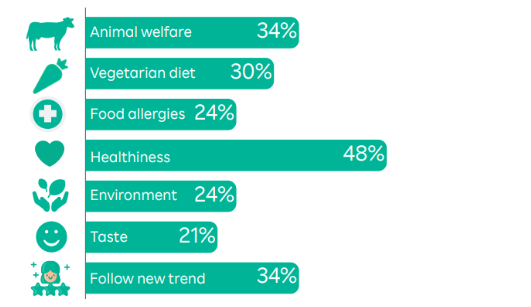 If you want to read more about consumer trends and how they can influence the food industry, do not miss this article.  
Plant-based products are different from animal-derived products 
Plant-based food products have a greater variety of constituents than animal-based foods. [8] 
Plant-based proteins come from a variety of sources. [2] 
The variety of microbes present in plant-based products is more. 
The different solubilities and heat reactions of plant-based product's components affect how they are processed.  
Hazards associated with plant-based alternatives  
Plant-based products serve as an alternative to animal-derived products, but this doesn't necessarily mean that these products share the exact same characteristics. In fact, compared to the animal-derived products they are trying to mimic, plant-based products can pose very different challenges. The most common sources of hazards for plant-derived alternatives will follow.  
Allergens  
Attempts to mimic the taste and texture of animal-derived food might introduce new allergens. Examples include the use of soy in plant-based alternatives, or nuts to replace dairy products. [8] 
Additionally, the risk of cross-contamination from non-vegan ingredients processed in the same facility is also a great risk. [4]  
Microbiological hazards  
Plant-based products often have neutral pH and high water content, which constitute an environment ideal for bacterial growth. [4] Furthermore, plant-based alternatives are complex products in which the variety of microorganisms present also tends to be greater. [2]
Research conducted by NIZO on ingredients used to make dairy alternatives (coconut, oats, almonds, peas, and other legumes) found that the variety and levels of microbes were higher in the alternatives compared to milk. Fig.3 Despite the effort, microbial contamination in plant-based protein sources is still not well understood.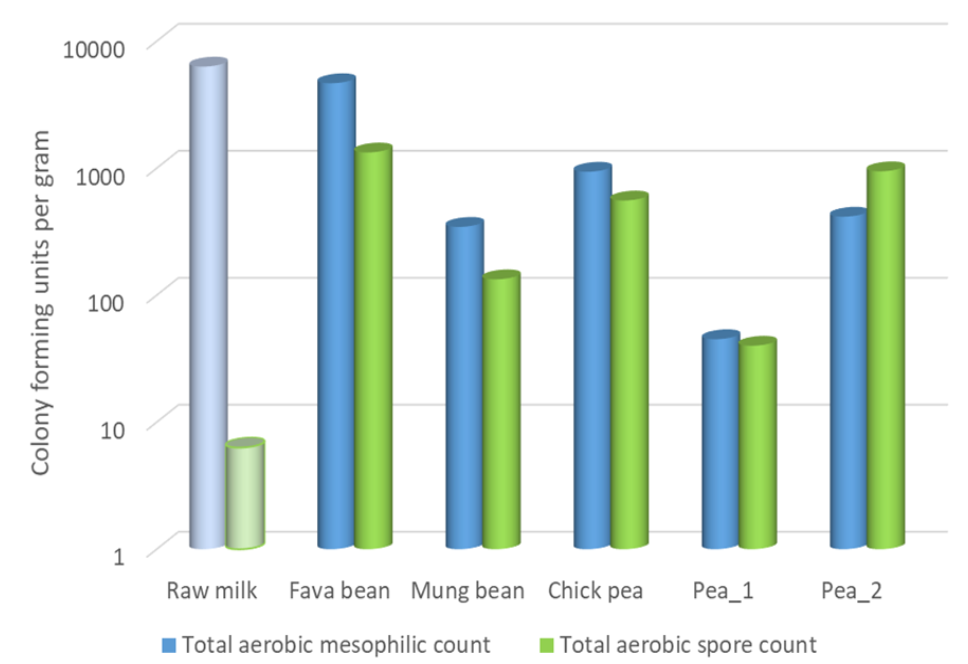 Contaminants  
Contamination can happen at all stages of plant-based products production, from different sources of contaminants. Common contaminants found in plant-based products include mycotoxins, chemical hazards from processing, and heavy metals. [8]  
Shelf-life  of plant-based foods
Companies and consumers should not necessarily expect plant-based alternatives to have a similar shelf-life to animal-derived products. Thus, shelf-life of plant alternatives should be thoroughly investigated and correctly communicated to the consumer. [4]  
Nutrition  
Despite not posing a direct threat to consumers' health, consumers should be aware that alternatives to animal products do not necessarily provide the same nutritional value and should watch their diets carefully. Furthermore, some naturally occurring chemicals in legumes may impair the bioavailability of important nutrients and interfere with mineral absorption. [8]  
Food safety concerns related to the processing of plant-based alternatives  
Plant-based products have a different composition compared to animal products. The struggle to find adequate processing techniques and intrinsic risks related to some processing techniques might lead to safety hazards.  [1,2]
Finding an effective processing step for lowering microbiological risk is not as straight
-> Some ingredients are not heat stable and might undergo degradation during a heating step. 
->Non-effective heating steps might lead to a microbiological hazard.  [1]
Manufacturers commonly use extrusion to process plant-based meat alternatives. Extrusion has the potential of:
-> Induction of chemical changes, of which some could be a potential hazard.
-> Denaturation of heat-sensitive proteins. [1]
The use of hexane is common in the industry for extraction and concentration of protein isolates from plant products. Manufacturers often use these protein isolates in meat replacements to mimic the nutritional composition of the original product.
-> Residues of hexane can cause environmental and health concerns.  [1]
Manufactures sometimes use liquid smoke in meat replacements to mimic the taste of the original product.  
-> Liquid smoke has been reported to be carcinogenic if consumed regularly and at high levels.  [1,2]  
Know the regulations  
The lack of uniformity in legislation regarding plant-based products puts food business operators in a difficult position when facing management decisions. [5] Exists regulation in the EU include:
The EU is still questioning the term "plant-based" claim itself and in some countries, it is still not clear what it should include. The decision is being brought at ISO level, to finally come to an agreement. [5] 
 
Plant-based food that contains traditional ingredients with a story of safe use, does not require pre-approval and is subjected to the standard European Food Law. [5] 
 
Some plant-based food might fall under the Novel Food (Regulation (UE) 2025/2083) or Food Additives Regulation (Regulation (EC) No 1333/2008). When this happens, they will need to go through a process of approval before being marketed. To know more about novelty foods, read this article. [5] 
 
Provisions protect traditional item denominations like "milk" and "meat", and they cannot associate them with a plant-based alternative. [5] 
Conclusion 
The development of plant-based alternatives should be seen as a positive thing and encouraged; however, it should not be assumed that plant-based necessarily means healthier and without food safety risks involved. In the end, the goal is not just to create alternatives to animal food, but also to create better and safer food for everyone:  
Regulations more specific to this "new" product category should be developed and be standard for all stakeholders.  
Preventive actions should be taken to be able to foresee risks and challenges. This includes testing, research, and the use of digitalization and AI to ensure good food safety management.  [1,8]
Easy way to be up to date with European Food Law: Try iMIS Food  
Changes and updates are made regularly when it comes to European legislation regarding food. This is even more true in a fast-changing world where legislation needs to keep up with novelty. 
iMIS Food provides a real-time Food Safety system that helps food companies comply with all regulations, procedures, and GFSI food safety standards such as IFS, BRC, and FSSC 22000. Nevertheless, with the help of the system, food companies can easily embrace digitalization and move away from pen-and-paper practices.  
  
Besides the tracking system, iMIS Food offers multiple digital solutions to aid food companies in complying with the latest legislation and standards, such as a digital handbook with all procedures and the HACCP study, an audit round system where hygiene, cleaning, product, or process checks can be performed and reported via smartphone, the intranet and portal, which offer access to the entire system, a calendar, as well as the documentation system.     
Sources 
[1] Bogueva, D., PhD. (2022, July 20). Safety and Nutritional Risks Associated with Plant-Based Meat Alternatives. Food Safety. https://www.food-safety.com/articles/7674-safety-and-nutritional-risks-associated-with-plant-based-meat-alternatives 
[2] Brattinga, C. (2023, October 5). Safety challenges for plant-based foods | Industry Insights | NIZO. NIZO. https://www.nizo.com/blog/industry-insights-from-nizo-safety-challenges-for-plant-based-foods/ 
[3] Elena, & Elena. (2022, February 2). Infographic: Plant-based food alternatives | Rakuten Insight. Rakuten Insight. https://insight.rakuten.com/infographic-plant-based-food-alternatives-future-or-present/ 
[4] Guevara, G. (2022, July 6). What are the biggest food safety risks for plant-based foods in 2022? Strategies to address plant-based food safety gaps & protect your brand – Merieux Nutrisciences. Merieux Nutrisciences. https://www.merieuxnutrisciences.com/za/food-safety-risks-plant-based-foods/ 
[5] Plant-based EU regulation | Plant-based | Cargill. (n.d.). https://www.cargill.com/food-beverage/emea/plant-based/plant-based-eu-regulation 
[6] Rakuten Insight. (2022). Plant-based food alternatives: Future or Present? In Rakuten Insight. 
[7] Statista. (2023, March 9). Global plant-based food market size 2020-2030. https://www.statista.com/statistics/1280394/global-plant-based-food-market-value/ 
[8] Thinking about the future of food safety. (2022). In FAO eBooks. https://doi.org/10.4060/cb8667en 
---
Related articles to The challenge of plant-based foods
Many customers and visitors to this page 'The challenge of plant-based foods' also viewed the articles and manuals listed below: