The GMP and HACCP training
On the second of August, we collaborated for the third time with Profound to establish training about HACCP (Hazard Analysis Critical Control Point) and GMP (Good Manufacturing Processes). Both are important to enhance food safety in the processing facility, as well as create export possibilities for the SMEs that participated in the online training. The training took around 2.5 hours, and there was room for many questions. For more about the first two trainings with Profound, click here. The training was filled with Ugandan participants from various product groups, wine, fruit juices, and honey, as well as a member of the Food Standards Organization of Uganda.
Collaboration with profound
Consulting services are provided by ProFound. ProFound began as a pioneer in the trade promotion of natural and organic ingredients in the year 1990, and since then, the company has evolved into a team of specialists in the development of sustainable value chains for natural components used in food, cosmetics, and health industries. Together with Profound, we aim to make more impact on value chains with digital, social and sustainable solutions. We, as QAssurance, can provide our knowledge about food safety to create opportunities to aid both food safety and food security. Our collaborative training is one way we can co-create. However, there can be many more ways that we can impact value chains with our shared knowledge and experience.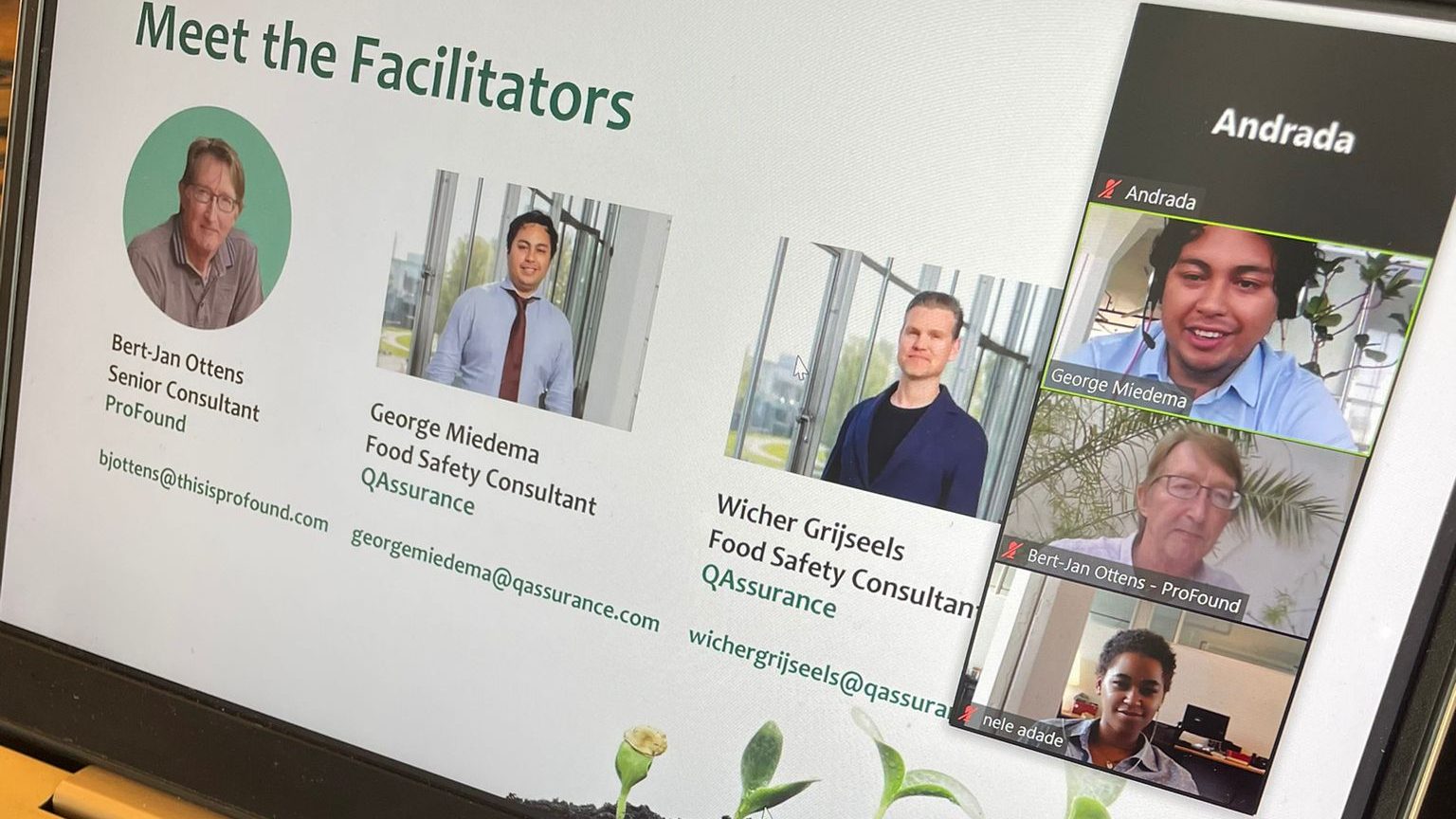 Training part Good manufacturing processes
We covered a list of important GMP procedures to show them that it is important to aid food safety. Many of these procedures were already done by the company. However, documentation was lacking. To be consistent in your quality procedures, documentation and validation are key. Hereby is the list of procedures;
Covid 19
Documentation
Education and training
Cleaning
Entry Check
Allergen management
Foreign Materials
The full procedures are made available in this GMP link
Training part HACCP
The last part was about HACCP. The HACCP (Hazard Analysis Critical Control Point). The HACCP methodology is based on the Codex Alimentarius and will come back in all GFSI-approved standards for food processing companies. With the HACCP methodology, you first identify hazards and look at the processes to see if certain critical steps prevent or minimize to an acceptable level.
HACCP Team
Furthermore, a HACCP team to improve and sustain food safety within the company. Preferably multidisciplinary team with members of different departments to ensure a company-wide food safety culture.
---
Related articles to 3th training with Profound GMP / HACCP in Uganda
Many customers and visitors to this page '3th training with Profound GMP / HACCP in Uganda' also viewed the articles and manuals listed below: